O Joy urges HAC to exercise legislative power against violation of article 371C
O Joy stated the recent induction of eight MLAs from valley in Hill Areas Committee (HAC) and again withdrawing hastily has demeaned the Constitution of India
---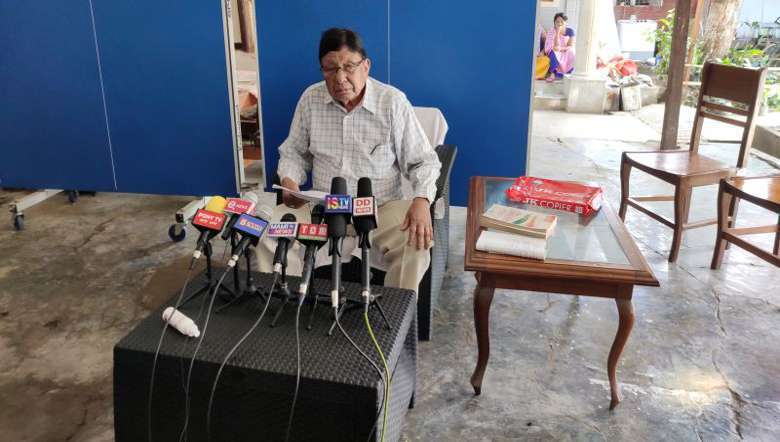 O Joy (PHOTO: IFP)
---
Veteran politician O Joy on Friday stated the recent induction of eight MLAs from valley in Hill Areas Committee (HAC) and again withdrawing hastily has demeaned the Constitution of India and urged the HAC members to exercise their legislative power against the Speaker instead of inciting civil voluntary organisations to raise agitation or movement in this regard.
In a press conference at his residence at Langthabal, Joy said that the Speaker of Manipur Legislative Assembly is constitutional and considered as guardian of parliamentary democracy. But violation of Article 371 C that deals with 'Manipur Legislative Assembly (Hill Areas Committee) order, 1972' by the Speaker in issuing order for induction of eight MLAs from valley assembly constituencies in HAC on September 1 was unfortunate.
He continued that though the order was withdrawn on September 8 with the reason 'for better understanding between stakeholders', induction of the valley MLAs already violated the constitutional provisions. Hence, the reason cited on withdrawal of the order is inappropriate and not legally and constitutionally acceptable.
ALSO READ: Manipur Speaker withdraws order on HAC membership
"Instead of giving such a reason he should accept that he unknowingly broke the provision of the Indian Constitution," Joy rebuked while stating that such unconstitutional order has threatened the unity and integrity between hills and valley.
It is questionable why the related officers, legal officer and secretary of Manipur Legislative Assembly ignored the rule and provisions of the constitution before issuing the order. There seems a need to form a committee to investigate the motive behind induction and withdrawal of MLAs in HAC, he added.
He continued that according to Article 371 C, the areas that come under the first schedule are defined as hill areas and only scheduled tribes representative of these constituencies can be the member of HAC. As such, there is no possibility at all to appoint representatives from the valley areas in HAC.
Stating about the movement launched by tribal students' organisations or bodies in connection with the recent HAC case, Joy said that showing condemnation by tribal bodies against induction of eight valley MLAs in HAC is acceptable. However, it would be much better if the HAC members exercise their power conferred upon as MLAs in removing the Speaker when the constitutional provisions are violated by the Speaker himself.
ALSO READ: Congress MLAs inducted in HAC have resigned from committee: Ibobi
"It seems the concerned MLAs are not utilising their power even when the Speaker violated the constitutional provisions and attacked their interest. On the contrary, launching various movements by inciting the civil voluntary organisations is very unfortunate. Such action will only lead to communal crisis and fracture the bonding between hills and valley," he lamented.
Appealing to the concerned MLAs to utilise their power, he said that discussing the matter in assembly is the best option to finalise whether the decision made by the Speaker was constitutional or not. 
First Published:
Sept. 10, 2021, 9:41 p.m.