Kangpokpi DC office remains locked, CVO to intensify stir
The functioning of the district administration was disrupted as infuriated mob picketed the office since September 6.
---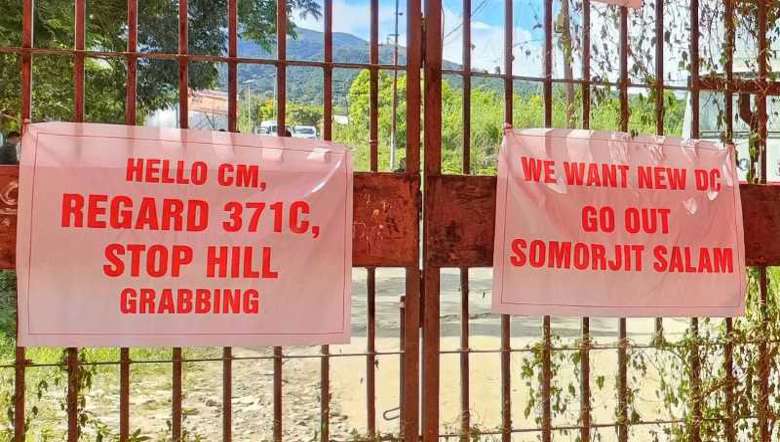 (Photo: IFP)
---
The office of the deputy commissioner, Kangpokpi remained locked for the third consecutive day on Wednesday by enraged mob, demanding immediate removal of the DC.
The functioning of the district administration was disrupted as infuriated mobs picketed the office since September 6 following an alleged unethical behaviour and high-handedness of deputy commissioner, Somorjit Salam upon the people of the district on various issues and matters, especially in connection with land matters.
The protesters, who are mostly women, spearheaded by several civil voluntary organisations in the district protested in front of the entry gate along DC road while representatives from each ward from Kangpokpi town were also reportedly sent to participate in the stir.
Business establishments of Kangpokpi town which had been closed were lifted and started opening on Wednesday.
As decided by the civil bodies, especially the women's organisations have taken their stand not to allow Somorjit to continue as DC of Kangpokpi and not to withdraw the ongoing stir under any circumstances.
As witnessed, a large number of women protesters congregated at the protesting site early morning and dispersed after dusk. The women folks had earlier warned the DC to face the music of the fuming women if he dared to come back to the office.
Speaking to media persons, one of the woman protesters lamented, "We will stick to our firm stand to continue the protest by sealing the entire campus of the DC office unless Somorjit is removed from Kangpokpi."
Another protester said, "Even if the state government and other authorities concerned attempt to use force to open the picketed office, we will not step back an inch under any circumstances."
Sources from the CVO stated that some leaders from the Centre may visit Manipur on Thursday to bring solution to the ongoing stir in Kangpokpi. The CVO appealed to like-minded people and other civil organisations to stand with the people of Kangpokpi so that bureaucrats in the state maintain their ethical behaviour anywhere in their place of posting.
Meanwhile, a reliable source informed that some CVO leaders of Kangpokpi had a meeting with the chief minister late Wednesday afternoon to discuss the issue but the outcome could not be ascertained till the filing of this report.
First Published:
Sept. 8, 2021, 10:19 p.m.