Not right time to reopen schools, colleges: Manipur health director Dr K Rajo
Dr Rajo said that the number of COVID-19 cases is decreasing gradually but sometimes there is fluctuation in the number of cases.
---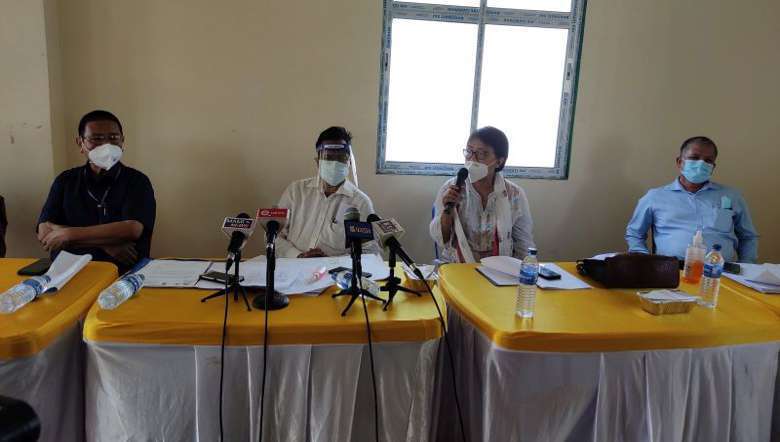 (PHOTO: IFP)
---
Manipur Health Service director Dr K Rajo on Friday said that the health directorate does not encourage reopening of schools and colleges despite the fall in COVID-19 cases for the past few days.
The health director made the remark at a press conference held at Ophthalmic Cell, Directorate of Health Services, Lamphelpat, Imphal West.
Dr Rajo said that the number of COVID-19 cases is decreasing gradually but sometimes there is fluctuation in the number of cases. As such, it could not be considered a right time to reopen schools and colleges.
He further said that these days the recovery rate exceeds the positive rate. Till Thursday, the number of active cases in the state was 3,320 which is the lowest since July, 2021 as the highest cases were recorded on July 28, 2021 with 10,920 cases. When it comes to the positivity rate, it has been reduced to 7.6 per cent till date and it was highest on July 26, 2021 with 20.2 percent. Even the morbidity rate has been reduced to single digit.
Dr Rajo said that with total beds of 8,473 in the Community Home Isolation Centre, at present only 497 patients have occupied the bed. Apart from this, out of total COVID beds in all the private hospitals, JNIMS and RIMS, just one-third are booked and the rest are lying vacant. Moreover, ICU beds for COVID patients are also vacant. This overall data proves that the condition of COVID-19 is improving in the state.
Amid this situation, the state has also received the report of new variants, and there is no need to worry much as the strain would not be that serious. However, people should never forget to maintain COVID-19 appropriate behaviour and get vaccinated without fail, he appealed.
Supplementing the conference, IDSP state surveillance officer, Somorjit Ningombam said that there is clear evidence that vaccines would be one of the major means to combat the pandemic.
He said that it cannot be guaranteed that fully vaccinated persons are completely safe from COVID-19. However, the severity of infection and fatality would be very low if vaccines are administered. Out of the total population who had administered both doses of COVID-19 vaccine, just 2.8 per cent of them had been infected by coronavirus while 18 percent of the total population who had administered the first dose was affected by COVID-19. The report clearly shows that to jab both doses is essential.
While mentioning about vaccination rate, he said that so far 61.5 per cent and 18.34 per cent of the total population have been vaccinated for the first and second dose respectively. The health department is facing many challenges in convincing people for vaccination in hill areas. However, the department is carrying out vaccination drives in association with religious leaders.
People should come and vaccinate themselves without fail to flatten the curve of COVID-19 cases in the state, he appealed. 
First Published:
Sept. 3, 2021, 10:14 p.m.