Modified exhaust pipes destroyed in Churachandpur
Exhaust pipes were taken off from motorcycles which were seized for failing to conform to Motor Vehicles Act
---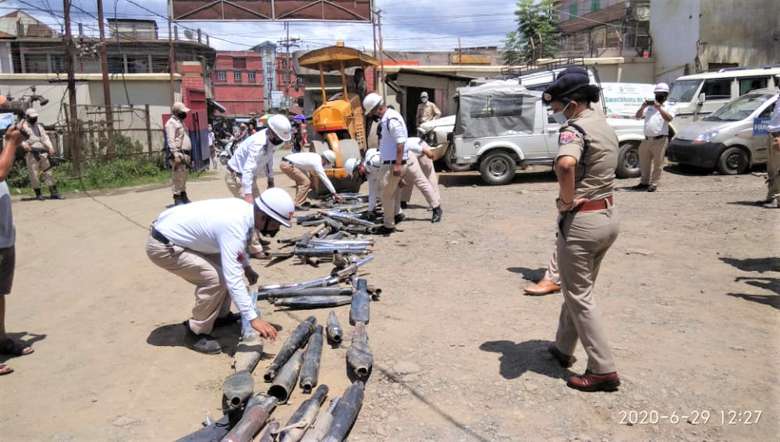 Exhaust pipes line up to be destroyed (PHOTO - IFP)
---
The Traffic Control Police, Churachandpur on Monday destroyed 90 noisy modified exhaust pipes using a bulldozer in front of Churachandpur traffic police (TCP) station.
The exhaust pipes were taken off from motorcycles which were seized for failing to conform to Motor Vehicles Act.
The exhaust pipes were destroyed under the supervision of superintendent of police (SP) Amrita Sinha. She was assisted by additional SP Lawrence K Munluo and officer-in-charge, TCP, Churachandpur, James Vaiphei.  The pipes were destroyed under Section 190 (2) of the Motor Vehicles Act.
Amrita Sinha thanked the people of Churachandpur for their cooperation. She reminded the people of the district to uphold law and reminded them that the existence of the rule of law is a sign of progress in society.
She exhorted the public to always wear helmets for their safety and avoid triple riding. She also called upon the people to follow traffic regulations like avoiding wrong parking, following one way traffic in the main town, not taking U-turn where not permitted, avoiding unloading during restricted hours from 8 am to 6 pm among others.
She also thanked the people for providing necessary foodstuff in the present crisis. James Vaiphei said the pipes destroyed on Monday were those seized since June 2019. Asking the motorists to be more responsible, he added that traffic rules will be enforced continuously.
First Published:
June 30, 2020, 3:45 p.m.