Pledge for eye donation: Manipur Health Director
Dr K Rajo said that donating a pair of eyes by a single donor can give vision to two people.
---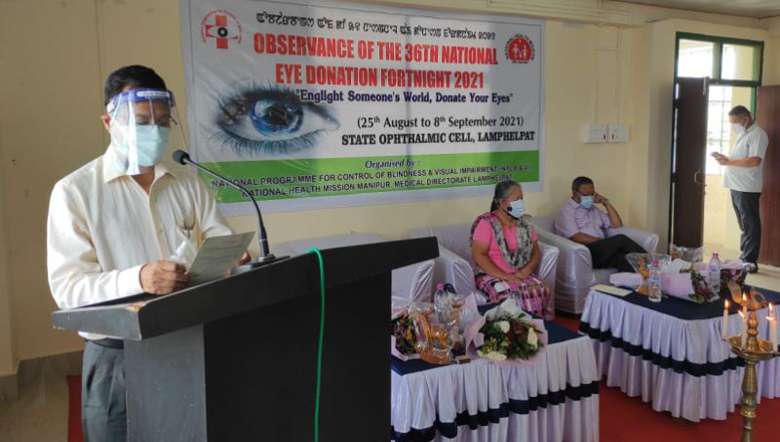 (PHOTO: IFP)
---
Manipur Health Service director Dr K Rajo on Wednesday called upon the people to pledge for eye donation after their death, saying that blindness and visual impairment are major health issues in India and the state.
During the observance of the 36th National Eye Donation Fortnight cum Awareness programme held on Wednesday at the State Ophthalmic Cell, National Programme for Control of Blindness and Visual Impairments (NPCB and VI), the Health director urged the people to donate their eyes after death.
The programme was jointly organised by NPCB and VI and National Health Mission, Manipur under the theme 'Enlight Someone's World, Donate Your Eye'.
Addressing the function as chief guest, Rajo said that India has a high number of blindness with around 15 million. But there is a huge gap between eye requirement and eye donation as one lakh donated eye is needed in a year and the country could not meet this requirement till date.
"Donation of eyes is such a noble deed as it is just like giving new life to people who do not have the privilege to see the beauty of the world. Donating a pair of eyes by a single donor can give vision to two people," he informed.
Rajo continued that the eye is one of the most important organs of the body. Many health issues can relate to this organ such as blood pressure, diabetes, glaucoma, brain tumour and others. As such, proper treatment is very much required whenever there is uneasiness in eyes.
Function president, Family Welfare Services Manipur director, Dr Paozachin Guite said that there is a great need to promote the culture of eye donation after death. However, the state does not have the facilities for eye donation till date. She said that corneal blindness is the leading cause of blindness after cataract and glaucoma. Corneal blindness can be treated or prevented by donating eyes. Hence, promoting the culture of eye donation after death can reduce the problem of blindness at least to some extent.
The programme was also attended by Health Services Manipur additional director, Dr Khoirom Sasheekumar Mangang as guest of honour.
First Published:
Aug. 25, 2021, 9:25 p.m.