Apna Dal (Sonelal) Manipur Pradesh launched
K Manoranjan Singh was appointed as state president of Apna Dal (S)
---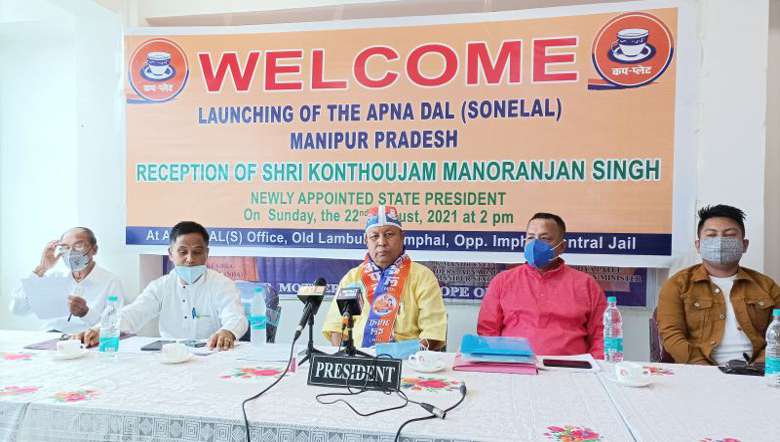 (PHOTO: IFP)
---
Apna Dal (Sonelal) Manipur Pradesh was launched in the state on Sunday at its state head office located at Old Lambulane opposite to Imphal Central Jail, Imphal West, where the state president of the party, K Manoranjan Singh appointed 10 office bearers to run the state party.
K Manoranjan Singh was appointed as state president of Apna Dal (S) by the national party on Wednesday last.
The 10 office bearers of state unit of the party are MI Khan of Keirao assembly constituency as general secretary (administration); Ch Biren Singh of Mayang Imphal assembly constituency as assistant secretary (organisation); Maibam Kumar Singh as treasurer; L Rajmani Singh as spokesperson; Thokchom Sumanta Singh of Naoriya assembly constituency as state youth president; A Bimola Devi as state president women's wing; L Khelendro Singh as executive member; L Nimai Singh as executive member; Md Jalal as executive member (minority) and Md Najiruddin as executive member (minority).
During the launching programme of the party, Apna Dal (S) state president, Manoranjan said that Apna Dal (S) has been a coalition national political party with the NDA government. He said the meaning of the party, Apna Dal means 'our party', and there is no inequality irrespective of caste or religion.
The party provide similar treatment to each party member. The main objective of the party is to bring equality among everyone and to promote the minority people, he added.
'Cup and plate' is the party symbol which is the favourite symbol of Prime Minister Narendra Modi. Modi was once a tea seller and his tea could be completed with the cup and plate, said Manoranjan.
Most of the political parties are fully corrupted and Apna Dal (S) is against corruption, said state president. Under the leadership of national president Anupriya Patil, the party will eradicate corruption, he added.
First Published:
Aug. 22, 2021, 11:07 p.m.