Producers of indigenous products must not compromise on quality: Union minister Patel
Food products including black rice ladoo, black rice fruit and nut cookies, hot and spicy bhujia, kabok mixture, Manipuri casava burfi, bamboo shoot muraba and fig ladoo were launched on Saturday..
---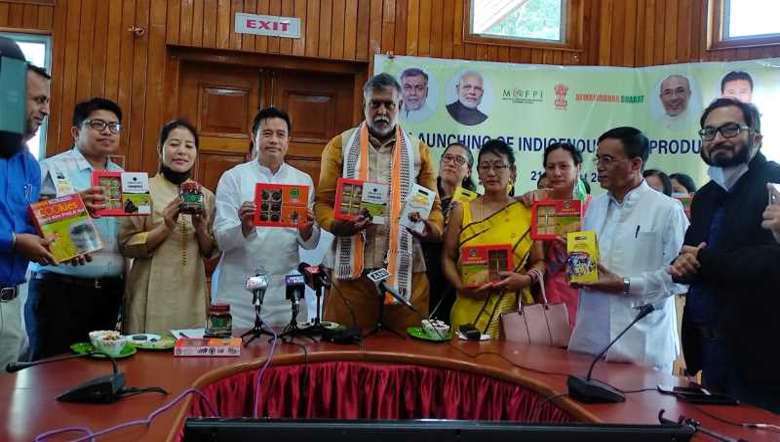 While introducing any products or items, the first priority is to make sure that the quality of the product is not compromised, said Union Minister of State for Food Processing Industries and Jal Shakti, Prahlad Singh Patel. 
Patel was speaking at the launching of seven indigenous food products of Manipur Food Industries Corporation Limited (MFICL) in the presence of state Industry Minister Th Biswajit at the conference hall of Old Secretariat, Imphal. He said that the indigenous products of the Northeast states have high market demands in other states and countries.
Food processing is an old industry and with the initiative of Prime Minister Narendra Modi, the present government is focusing on reviving the food industry units to generate more income by exporting them, he said. Pointing out that the country is rich in agricultural products but lags in producing finished goods, he reiterated the need to give more emphasis on producing finished goods.
Congratulating MFICL for the rich content of the food products and their good quality packaging, he said, "For more successful export of the products, we should also prioritise their branding and marketing." The union minister also assured of maximum support from the union government in the branding, marketing and transportation of the indigenous food products of Manipur.
Minister Biswajit, who is also the chairman of MFICL, said that launching of the seven indigenous products is just the initial phase for MFICL. The corporation is looking forward to producing more products in the near future and exporting them, he said.
He said the food processing units in the state have been doing a great job in giving job opportunities to the unemployed youths and uplifting their socio-economic status. 
With the ideal to make a self-reliant state, the MFICL has been giving training and financial support to many food processing units and is encouraging the companies to use the available resources and produce quality products for exporting, he said.
MFICL managing director Peter Salam informed that the labelling and packaging of the products are being done at Imphal, Delhi and Mumbai to achieve fine branding and attractive display.
He said for marketing and distribution, efforts are being made to market the products locally and outside the state at outlets in metropolitan cities. Such outlets will showcase the state's potential in food processing at the national market, he added.
The food products which were launched today are black rice ladoo, black rice fruit and nut cookies, hot and spicy bhujia, kabok mixture, Manipuri casava burfi, bamboo shoot muraba and fig ladoo.
First Published:
Aug. 21, 2021, 9:07 p.m.