A triumphant return
IFP Editorial: It is also expected of RK Ranjan to help orchestrate a complete overhaul of the education system in Manipur. In the realm of external affairs, he could be a harbinger of good relations with Myanmar and Southeast Asian countries
---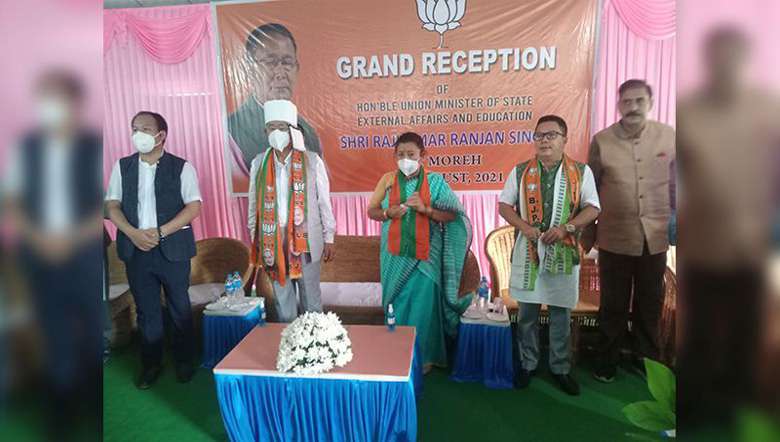 (PHOTO: IFP)
---
After being sworn in as a Union Minister of State, it is RK Ranjan's first trip home in Manipur and he is doing it in style by entering Manipur through Mao Gate on road and by seeking blessings from the people of his state. Of course, it was Prime Minister Narendra Modi's idea that he should go and seek blessings from the people not only of Manipur but neighbouring Nagaland state also. Now, we presume Ranjan would be looking after the interests of both states. Unlike past Ministers of State from Manipur, he had been given the crucial portfolios of Education and External Affairs. He is the fourth such minister at the Centre. The first was RK Jaichandra Singh who was the first Union Minister from Manipur during the time of Rajiv Gandhi between 1985 and 1988 as the Union Minister for Sports and Youth affairs, and later on as the Chemicals and Petrochemicals Minister. The second was Prof Meijinlung Kamson who was elected as a Congress MP from Outer Manipur Parliamentary Constituency and served as a Union Minister of State for Home Affairs from 1995–96. Th Chaoba was the third from Manipur to be inducted in the Union Council of Ministers, when he was elected on a breakaway faction Manipur State Congress Party. He was appointed as MoS for Culture and Youth Affairs and Sports from October 13, 1999 to February 2, 2000 and MoS for Food Processing Industries, Ministry of Agriculture from May 27, 2000 to September 1, 2001. Except for RK Jaichandra who held independent charge, the others were junior ministers working under Cabinet ministers.
The interesting part this time is the allocation of portfolios to Rajkumar Ranjan Singh. That a Minister of State hailing from a remote state of India should find himself in Ministry of External Affairs was indeed a surprise. Of course, Education ministry is also a feather in the cap of RK Ranjan as most of his predecessors were in what is considered minor departments. His background in Environment issues and as an educational administrator must have helped in pinpointing the portfolios most suited to him. He is a PhD holder in Geography. After teaching in colleges in Manipur, he joined Manipur University (MU) as an Assistant Professor in the department of Earth Sciences. He was appointed Registrar at MU and served from 2004 to 2008. In his younger days, he worked in the realm of cultural integration under the tutelage of giants like the late Maharajkumar Priyobarta Singh (MKPB), the first Manipuri chief minister of Manipur and historian of repute Gangumei Kamei. Thereafter, he also took the lead in popularisation of Science in remote corners of the state and raised issues of environmental concern. Indeed, he was trailblazer in environment issues and climate change and many of his associates are still in action today.  
Well, the people of Manipur had elected him and now he has been inducted as MOS in-charge of two crucial portfolios of Education and External Affairs. Now, what he can do for Manipur? That should be the moot question? In the Education sector, it would be great if he could move for greater inclusion of the history, heritage, geography and culture of Manipur and the rest of Northeast India in the school and college curriculum. This would certainly help in 'really' integrating the Northeast to the mainland and reducing the sense of alienation. Well, it is also expected of Ranjan to help orchestrate a complete overhaul of the education system in the state. In the realm of external affairs, he could be a harbinger of good relations with Myanmar and Southeast Asian countries, and of course Bangladesh also. With his background in environment and climate change action he could also be working in the areas of climate change and sustainable development goals at the world stage, which would supplement the efforts of Narendra Modi government in Climate Change action.
First Published:
Aug. 19, 2021, 2:37 a.m.