Trained Nurses Association Tamenglong joins cease-work strike
The Manipur Secretariat Services Association (MSSA) on Tuesday launched a cease-work strike against the state government for failure to meet their demands before the given dateline.
---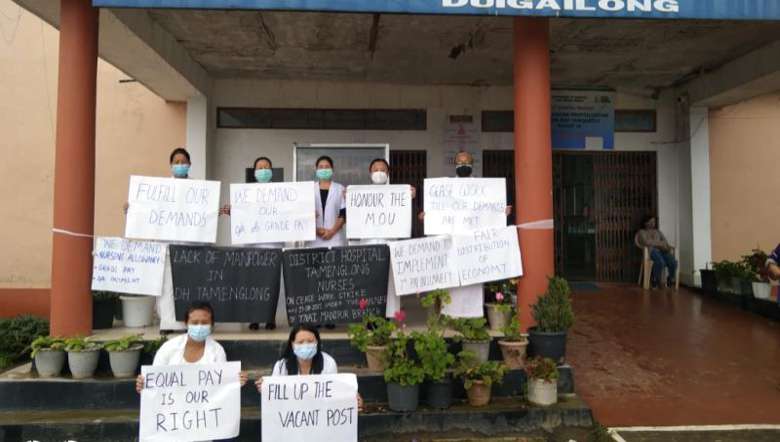 (PHOTO: IFP)
---
The trained Nurses Association Tamenglong has joined the cease-work strike that was launched on Tuesday by the Manipur Secretariat Services' Associations (MSSA).

The Trained Nurses' Association of India (TNAI), Manipur state branch under the aegis of Manipur Government Services Federation and Manipur Secretariat Services Association had on August 14 warned that all the nurses fraternity will also join the cease-work strike with effect from August 17 until and unless their demands are met.

"Since the state government has not been taking up appropriate action about the payment of Grade Pay'  Nursing Allowance and D.A payment, etc., and as Nurse's Demands have been incorporated in the Charter of Demands, TNAI, Manipur State Branch will also join the cease-work strike which will be launched on August 17," secretary Th Binodini Devi had stated.

It may be mentioned that on August 3, the (MSSA) along with the Manipur Secretariat (non-ministerial) Drivers Association submitted a memorandum with a list of charter of demands to Chief Minister N Biren.

The memorandum was submitted as an ultimatum to fulfil the charter of demands mentioned in the MoU signed on April 21 and its zero outcomes.

The memorandum also mentioned some of the list of charter of demands that included equal pay for all secretariat assistants; 3-tier system in pay scales of drivers; filling up of all promotional vacancies; payment of dearness allowance (DA) 28 per cent; grade pay rectification in respect of ASO, SO and private secretaries etc and re-designation of group-D employees.
First Published:
Aug. 18, 2021, 1:27 p.m.