Jan Ashirwad Yatra to be launched in Manipur covering over 300 km by road
The outreach programme will be carried by Union Minister of Education and External Affairs RK Ranjan and during the three days journey
---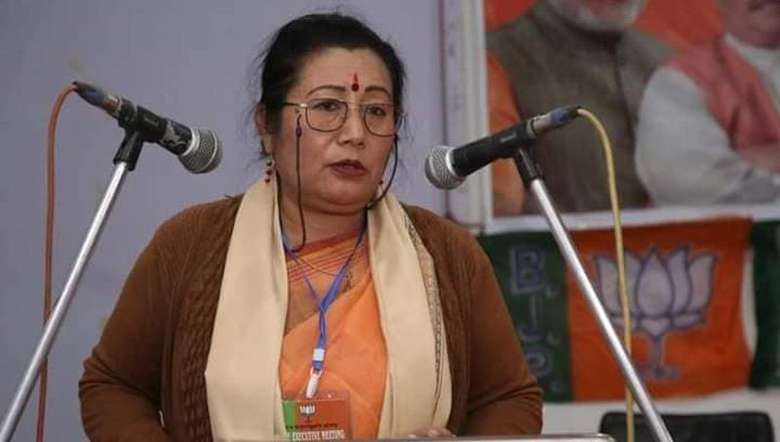 Manipur BJP president A Sharda Devi (PHOTO: Facebook)
---
As a part of Jan Ashirwad Yatra and Prime Minister Narendra Modi's instruction to meet the people of every nook and corner, the outreach programme will be starting from Mao gate on Tuesday.
The programme will be carried by Union Minister of Education and External Affairs RK Ranjan and during the three days journey, he will be covering over 300 kilometres by road.
State BJP president A Sharda Devi told the media in state BJP office, Nityaipat Chuthek, Imphal on Sunday that the activity will be the first time in the political history of Manipur that one union minister will be visiting Manipur by road covering over 300 kilometres in continuous three days.
She said that the 'yatra' has already been started and a team of BJP will receive the Union minister at Mao gate on Tuesday at about 9 am. It will continue its journey, and on the first day it will cover about 116 km from Mao gate to the Chief Minister's Secretariat office located at Babupara.
The union minister will meet the people along the way towards Imphal. He will be meeting various people along the various stop points including the COVID vaccination centres of Senapati, Kangpokpi and others, she added.
She further said that the second of the journey will be resumed from Singjamei Bridge and will destine to Moreh which is about 110 km. And the last and third day of the journey will start from Utlou and will destine to Churachandpur that will be covering about 128 km.
During the whole journey the union minister will meet the people personally and will monitor the problems and grievances faced by them amid the pandemic. Moreover, he will be meeting the family members who had martyred during the Kargil war, said Sarda.
Sarda also said the journey will not be able to cover the entire districts of Manipur within three days. In order to cover all the districts, the party is planning to continue the 'yatra' for other districts also.
The motive of the journey is to get involved with the people and to help the people. Moreover, it also aims to strengthen the BJP party in Manipur for the upcoming state assembly election, said Sarda.
First Published:
Aug. 17, 2021, 1:09 a.m.