COVID-19 Second Wave in Manipur: 12,322 children below 15 years test positive till August 15
Manipur Health director Dr Rajo said that Covid-19 infection among children below 15 years is increasing in the state.
---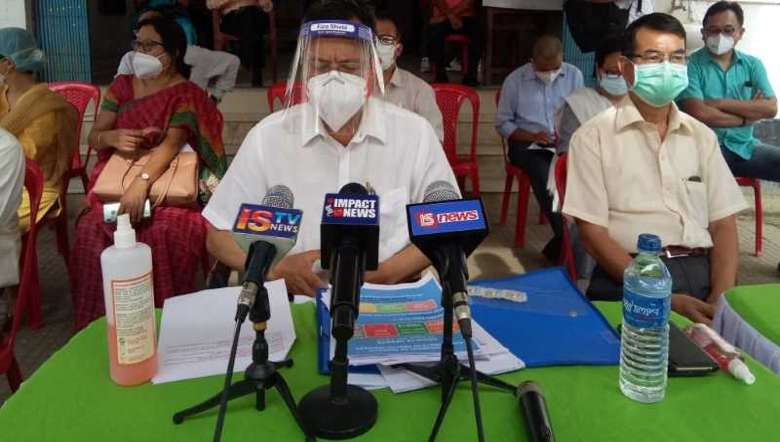 There are a high number of COVID-19 positive cases among children below 15 years of age in the state and cases among them are increasing, said director of health service, Manipur, K Rajo on Monday.  
Dr Rajo was speaking at a press briefing held at the Directorate Health Service Office complex on Monday. He said that in the state, as many as 12,322 children below 15 years have been tested positive till August 15 during the second wave. During the first wave, a total of 2,661 children below 15 years tested positive, he added.
Positive cases are rising in other states of India like Karnataka, he said. Therefore, preventive measures to protect children from COVID-19 have been started in the state. For children, different personal protective gears, masks and treatment processes are ready and they will be provided soon. They have started giving different forms of training to some officials of the Health department for treatment of children in case a third wave comes to the state, he said.
As per August 15 report, 121 children tested positive while the positivity rate stands at 20.09 per cent. Younger age groups have been highly affected, he mentioned.
For genome sequencing, the samples are no longer sent outside as they are carried out in the state, he mentioned.  Of the 727 samples sent for genome sequencing, 400 reports have come out. Of the 400 reports, 390 are delta variants, he announced. In the IDSP, 140, 26, 118, 133 samples were sent and 96 reports came out, of which 95 reports are delta variants, he added.  The number of places for conducting tests are also increasing. Recently, a mobile testing van was launched, he said. The Mobile testing van can be requested to come at home. On the first day, 47 people were tested, of which five were tested positive, Rajo said.
RTPCR machines have reached the RIMS and JNIMS, he mentioned. One must not hide to avoid taking tests as early test results will help in getting treatment at an early stage. The facilities of Covid Care Centre have increased and they also have good infrastructure, he mentioned.
Death rate is decreasing day by day, he also informed. He said that out of 10 deaths, eight have comorbidities. COVID-19 infection is more dangerous and lethal to patients already suffering from BP and other diseases in their advanced states, he added.  
Blood pressure and diabetes patients are high in the state so frequent testing and routine check-up and special care is necessary. Patients with diabetes have a high risk of black fungus infection, he said.
The state has already gone through the worst case scenarios, and the Covid situation is improving by following mandatory Covid appropriate behaviour and SOPs everywhere, he said.
To combat COVID-19, the state government had imposed curfew but was relaxed recently. It is to prevent mental health issues that may rise from staying inside the houses for long terms. Complaints of mental disturbance and obesity have come up and people started ignoring Covid appropriate behaviours, he added.
Dr Rajo urged the people of the state to follow Covid appropriate behaviour and SOPs strictly to combat COVID-19. He sought people's cooperation and coordination on measures taken up by the state government and Health department.
Additional directors, state mission directors, joint directors, deputy directors, team leaders of COVID-19 and representatives from WHO and UNICEF took part during the press briefing.
First Published:
Aug. 16, 2021, 10:26 p.m.