Tengnoupal fighting two wars - Covid pandemic and vaccine hesitancy: DC N Praveen
Tengnoupal deputy commissioner N Praveen urged the public to continue to extend cooperation to the district administration in executing projects as the district celebrated 75th Independence Day on August 15.
---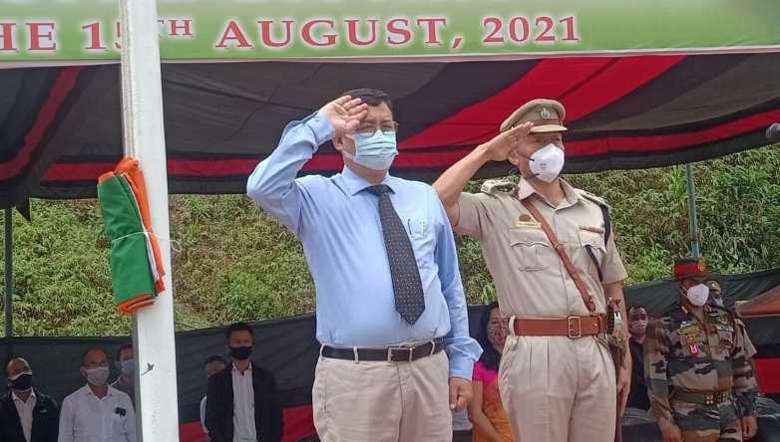 (Photo: IFP)
---
Tengnoupal district in Manipur today is fighting two wars - Covid-19 pandemic and vaccine hesitancy - deputy commissioner Naorem Praveen Singh said as he addressed the 75th Indian Independence Day celebration held at the district headquarters on Sunday.
Tengnoupal district celebrated India's 75th Independence Day at the Tengnoupal Govt High school ground, district headquarters on August 15. The district deputy commissioner hoisted the National Flag and took Rashtriya Salute. Two contingents from the Tengnoupal Police and one contingent from 20 Assam Rrifles took the March pass. M Amit Singh, ASP(Ops), Moreh was the parade commander. Th Vikramjit, SP Tengnoupal district and Col Narayanan, CO 20AR also attended the celebration.

Speaking at the function, DC Praveen pointed out that the district is fighting two wars – Covid-19 pandemic and vaccine hesitancy and urged the public to continue to extend cooperation to district administration in executing projects.
"For the last one and half year we have been fighting against Covid pandemic. Now we have achieved 60.67℅ vaccination in Tengnoupal district. Now Tengnoupal district became one of the most highest vaccination rate among hill district. We attain this achievement with the support and cooperation of public," N Praveen said.

DC N Praveen said that Moreh subdivision recorded highest percentage with almost 87 per cent vaccination followed by Tengnoupal subdivision which recorded 71 per cent. However, challenges still remain in Machi subdivision. Despite hectic effort from concerned department, Machi subdivision recorded only 37 per cent vaccination till now.
"Now, we concentrate on Machi subdivision, new strategy will be adopted from August 17 so as to vaccinate as much as possible, because Vacine is the only way to save from this deadly pandemic," he added.

While urging the public to cooperate with the district administration, he also requested media persons to regularly highlight the need for vaccination in fighting the pandemic.

Stating that the highway expansion work is in slow pace, he urged the public not to obstruct developmental projects executed in the district.
"The district administration is here to serve public, any grievances can be resolve through negotiations," he said.

Commendation Certificates were given to Health Workers, Teachers and Covid Warriors.

Border town Moreh also observed the 75th Independence Day celebration at ADC complex Moreh. K Jadhumani, ADC Moreh hoisted the tri-colour national flag and gave guard of honour. I Dinesh Kumar Singh- SDO Moreh, L Brojendra- SDC Moreh, Sangboi Gangte- ASP(LO), Moreh and Kh Dilipkumar- OC Moreh P/S also attended the observation.
First Published:
Aug. 16, 2021, 1:04 p.m.