Protest erupts at Japhou Bazaar after police take down Naga flag in Chandel
Naga Independence Day: Traffic Police post torched, two police personnel injured in scuffle with protesters
---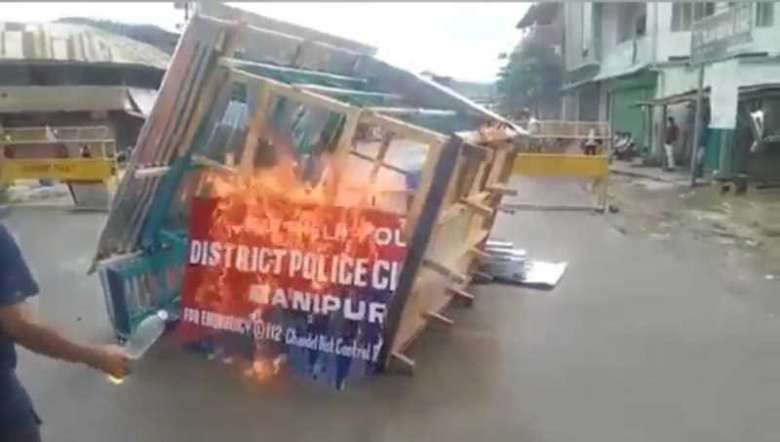 (Photo: IFP)
---
A violent protest that erupted at Japhou bazaar in Chandel district headquarters after the police took down the 'Naga national flags' put up by civil bodies as a part of the 75th 'Naga Independence Day' celebrations on Saturday left two police personnel injured.
An enraged group of protesters torched a traffic police post located in the heart of the town near Japhou bazaar, police sources said.
The police stated that around 5 am, a police team took down the small sized Naga flags put up at Japhou bazaar in Chandel district headquarters.
Mentioning that the flags were suspected to have been put up at night time, the police further stated that around 10.30 am, representatives of Chandel civil organisations came at the Chandel Police Station and demanded the flags be returned to them. However, the police had then told them that they will not hand over the flags without approval from the higher authorities.
Later around noon, an angry mob arrived and allegedly started pelting stones at Chandel police station. The mob also used slingshots during the attack and torched the traffic police post at Japhou road, the police said.
Police fired around three-four tear gas shells to disperse the mob. In the scuffle, two police personnel received injuries, police sources stated.  
As per sources, the two Chandel police personnel who received injuries during the attack have been identified as RT Choice, 27, and TC Aneikham, 31.
Meanwhile, Chandel civil voluntary organisations have stated that the flags that they had put up were taken down by Chandel police.
After taking part at the Naga Independence day celebrations held at Lamphou Pasna in Chandel, their representatives headed to the Chandel Police Station around 10.20 am and requested that the flags be given back to them. Their appeals fell on deaf ears, and their representatives were kept detained till noon, they alleged.
The reckless attitude and behaviour of the police hurt the feelings of the locals and led to the scuffle, the civil bodies stated. However, the tensions got resolved after the flags taken down by Chandel Police station were returned to the representatives at around 1.30 pm in the presence of SP Chandel L Deben.
First Published:
Aug. 14, 2021, 9:30 p.m.