Thoubal: Felling of historically significant 300-year-old peepal tree condemned
The peepal tree, which holds historical significance at Khangabok Part I, Sanilou area, was cut down and uprooted for the construction of Indo-Myanmar road.
---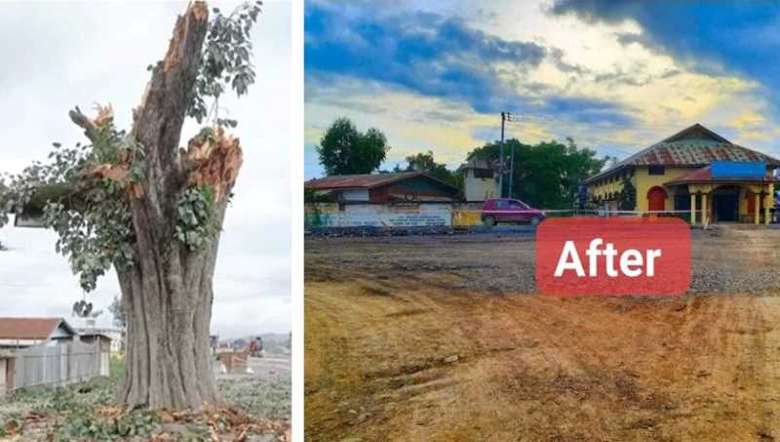 A society in Thoubal district, Manipur has strongly condemned the felling of a peepal tree that holds historical significance at Khangabok Part I, Sanilou area for the construction of Indo-Myanmar road on August 6.
The Khangabok Development Society (KDS, Khangabok) stated in a release on Thursday that the more than 300-year-old, historic peepal tree grew at Khangabok Moirang Palli which was formerly called Moirang Palli or Kaoren Ontha Paljao during the reign of Maharaj Bhagyachandra (1763-1798). The name was given while preparations were being undertaken to build a line of defence against a coming Burmese invasion, KDS stated.
Another historical significance which it held was that in the year 1891 when the Anglo-Manipur war took place at Khongjom, Meetei warriors deliberated war strategies underneath the peepal tree, it added. It has been truly unfortunate that such a piece of history has been destroyed for the sake of developing an Indo-Myanmar Road, KDS stated.          
If considered, the historic tree could have been left untouched while constructing the road as there is plenty of space on the Westside of the spot where there is a wasteland. However, the authorities felled it as if showing their power, it added.    
In the past, similar peepal trees of Chingmeirong were also felled before in the name of development. Although the chief minister has been discouraging deforestation and initiating drives for planting of tree saplings in the state, the cutting down of a historically significant peepal tree has shown the efforts taken have gone to waste, it added.
First Published:
Aug. 13, 2021, 9:43 p.m.