CorCom lauds Saikhom Mirabai Chanu, other Olympians
CorCom stated that it is truly proud of this 26-year-old, precious daughter of Manipur who won a silver medal at the Tokyo Olympics..
---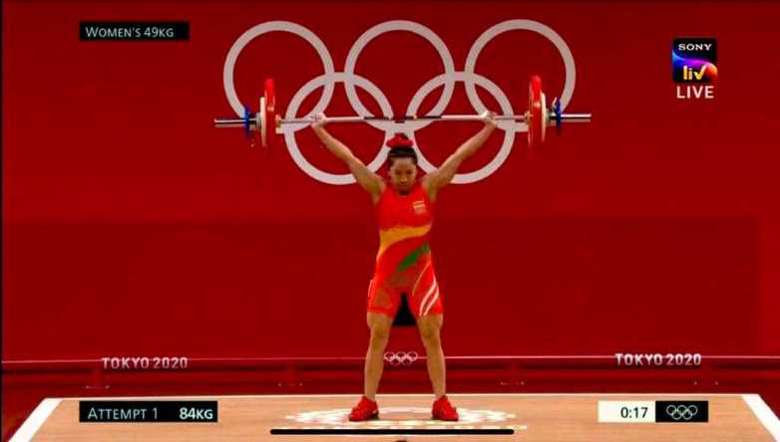 OLympian Saikhom Mirabai Chanu
---
The proscribed umbrella organisation Coordinating Committee (CorCom) on Monday lauded Saikhom Mirabai Chanu for winning a silver medal at the ongoing Tokyo Olympics hosted by Japan.
CorCom is truly proud of this 26-year-old, precious daughter of Manipur who went to compete with participants from other independent nations and secured the second position and won a silver medal, stated a release issued by the publicity committee.
The organisation extends its revolutionary salute and accords a warm welcome to her, it stated.
CorCom further applauds four other Manipuri Olympians, namely MC Mary Kom, Pukhrambam Sushila Chanu, Shanglakpam Nilakanta and Sushila Likmabam who went to place the tiny, and hilly state of Manipur at the centerstage of the world now, it added.
The organisation also acknowledges the remaining participants from 'WESEA' namely Tarundeep Rai from Sikkim, Lovlina Borgohain from Assam and Lalremsiami from Mizoram for their roles in highlighting the region to the world, it stated.
However, considering the fact that other participants are attending this biggest and the most popular sports event in the world by representing their own independent nations, it is upsetting to think that the Olympians from 'Wesean' states like Manipur have to represent India instead of their own motherland, CorCom stated.
"Had our players represented an independent Manipur instead, the pride and happiness which the people of Manipur felt at their achievements would have been much stronger and pure," CorCom stated.
Till date, India has been taking away all the credits of the hard work and talents of the players from this place, it added.
CorCom further stated that Mirabai Chanu's victory has proven before the world that no matter how small a group or a state is, if it has a distinct identity and roots, cannot be kept suppressed for long by a powerful country.
Her victory will also give a newfound strength to the communities and nations which had been undergoing self determination movements after their sovereignties were snatched and struggling under colonialism, CorCom stated. She will serve as an undying beacon of light that will give guidance and direction towards the path to independence, it added.
This most recent victory has shown that no matter what one's background is, if one works really hard, then success is guaranteed. If honed and nurtured at the right moment, the youths of Manipur can reach the highest, it stated. But that path to Mirabai's success was paved by many others before her. In the field of weightlifting, there were other trailblazers such as Anita, Kunjarani, Sanamachana etc.
CorCom further stated that after her defeat at Rio Olympics 2016, she had pondered about ending her sports career but instead of giving up, she leant the lessons well and with a firm determination to bring a medal for Manipur from Tokyo Olympics, Mirabai gathered all her strength and courage, and finally arrived at the podium of victory.
Mirabai Chanu's parents and family have a huge role and responsibility in making her successful. Considering that her parents, despite all the poverty, had guided her towards her goal, the people of Manipur shall remain ever indebted towards them, and CorCom bows before them with utmost reverence, it stated.
"Mirabai and the four Olympians of Manipur have shown that we have distinctive features and characteristics different from the rest of India and that Manipur is entirely a different entity although India claims it to be her own," it stated.
Among mainland Indians, a few ones may have some sense of humanity in them but the remaining sections are all racists with an oppressive outlook, CorCom stated. Let alone in the dark, it is unsafe for the people of 'WESEA' to freely walk in the daytime.
The women are even prone to facing threats. The recent incident at Hauj Khas in Delhi where women from 'WESEA' were mistreated is an example, it stated. Sometime earlier, some even spat paan at their faces, CorCom stated.
The youths of Manipur, in order to achieve fame and success, must try to escape from this racial discrimination by putting their goals and targets beyond India, it added.
First Published:
Aug. 3, 2021, 11:34 a.m.