Man who jumped into river untraceable; protesters decry police act in causing panic situation during curfew
The locals of Hatta Golapati organised a protest, alleging the police of creating tension among the public amid the curfew.
---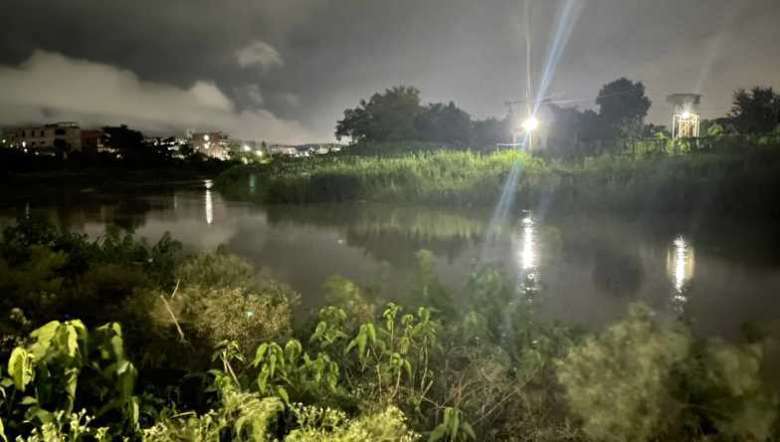 (Photo: IFP)
---
As the man who jumped into Imphal River on Sunday remained untraceable, the Muslim Council Manipur (MCM) and the United Hatta Golapati Council (UHGC) on Monday strongly condemned the police commando personnel for failing to help the person when he called for help after he jumped into the river.
Decrying the act of Imphal East district police for causing tension among the public, the locals of Hatta Golapati organised a protest at Hatta Golapati near KR Lane, Imphal East on Monday.
As the state government imposed curfew across the state to break the chain of COVID-19 transmission, police personnel have been detaining hundreds of curfew violators.
The police department has also been continuing to come down hard on violators of guidelines and restrictions issued by the state government and the State Disaster Management Authority in connection with the pandemic.
Since the curfew was imposed, the state police have been warning the public that those who violate the guidelines and restrictions shall be dealt with strong legal action under the National Disaster Management Act, 2005.
Speaking to the media on the sidelines of the protest, MCM president, who is also the convenor of UHGC, Haji Arafat Ali said that Fariz (the man who jumped into Imphal River) along with some of his friends were playing football at KR Lane ground which is the local ground of the area. At around 4:30 pm on Sunday, a patrolling car of Imphal East district commando approached the area and warned the public to remain inside their houses. When Fariz and his playmates saw the police car coming, six of them jumped into the Imphal River; however, Fariz has been missing.
The police personnel, who were coming in the patrolling car, saw Fariz calling for help after he jumped into the river but did not take any step to rescue him, he alleged. He also said that Fariz and his playmates were playing at the local playground and they cannot be charged as curfew violators.
Responding to the media, Arafat agreed that Fariz violated the protocols of standard operating procedures (SOPs), however, he denounced the act of police personnel in neglecting to save the person who was calling out for help in the river.
Several members staged a protest with placards written: 'I/E district commando is responsible for the incident of Fariz', 'stop creating panicky situations in the name of curfew', 'we condemn police for creating panic situation' and others.
Also Read: Man jumps into Imphal River, combined team carries out search
First Published:
Aug. 2, 2021, 10:36 p.m.