Manipur's daily Covid-19 positive cases continue to dip below 1000-mark for third day
Manipur reported 832 new Covid-19 cases and 10 more deaths in the last 24 hours, as per latest updates on Sunday.
---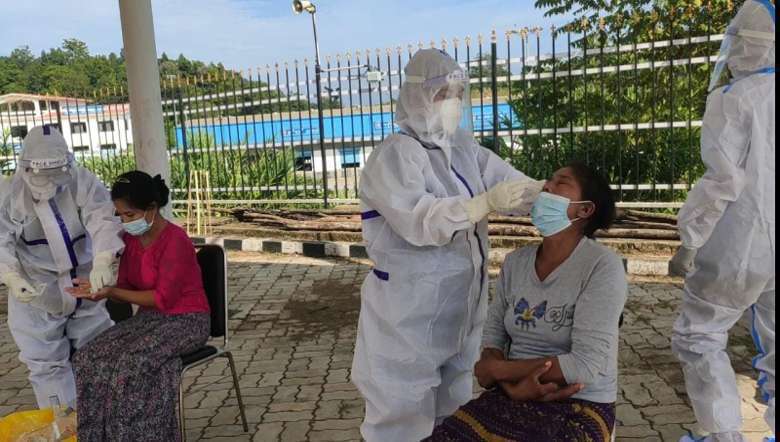 (File Photo: IFP)
---
Manipur continued to witness a drop in the daily COVID-19 positive tally with 832 new COVID-19 positive cases reported on Sunday. The state's Covid-19 confirmed tally reached 99,331 while the death toll mounted to 1,566 with 10 more fatalities, according to the latest update by the state health department. 
Of the 15 COVID-19 fatalities recorded on Sunday, three deaths were reported from Thoubal, two from Imphal West, one fatality each from Imphal East, Kakching, Noney, Chandel and Bishnupur, according to a release issued by State COVID-19 Common Control Room. 
The release stated that of the 10 deaths, seven persons had co-morbidities and only two were vaccinated with the first dose.
Imphal West and Imphal East continued to report the highest number of new COVID-19 cases with 255 and 197 cases respectively. One hundred and twenty cases were reported from Bishnupur, 63 from Thoubal, 49 from Kakching, four from Ukhrul, 69 from Churachandpur, 11 each from Chandel and Senapati, 22 from Tamenglong, three from Tengnoupal, one from Jiribam, five from Noney and 20 from Kangpokpi.
All necessary medical precautionary measures like containment and contact tracing are in place, it stated.
The state also recorded 957 new recoveries in a span of 24 hours, taking the cumulative number of recovered cases to 87,360. The recovery rate is 87.94 per cent, the release added.
Manipur now has 10,405 COVID-19 active cases, as per the release.
Meanwhile, a total of 2,639 D-type Oxygen Cylinders and 322 B-type Oxygen cylinders have been made available to different health institutions and health facilities of Manipur in the last 24 hours.
As per the latest update, the total number of people who have been administered vaccine had reached 13,20,287 (first dose: 11,07,583 and second dose: 2,12,704).
According to the release, there are 81 vaccant general beds and 16 ICU/HDU beds of COVID-19 in seven hospitals of Manipur. 
In ILAND Hospital (Contact No. 9540404955/ 7085206820) there are eight vaccant general beds; in MSF, Little flower School (Contact No. 9311222947) there are six vaccant general beds and two ICU/HDU beds; in CMC, Koirengei (Contact No. 9612636004/9612905628) there are 25 vaccant general beds and five ICU/HDU beds;  in Iboyaima Hospital, Singjamei (Contact No.7005436870/ 9612022125) there are 11 vaccant general beds; in Jivan Hospital, Kakching (Contact No. 9366034272/ 7085348366) there are 18 vaccant general beds; in Shija Hospital (Contact No. 7005097688/7005125158) there are two vaccant general beds and four ICU/HDU beds and in Raj Medicity (Contact No.7005105552/9366496411) there are 11 vaccant general beds and five ICU/HDU beds, it mentioned.
For information about CHIC (Community Home Isolation Centres), the general public can contact deputy director of Health and CHIC (in-charge) Dr L Somorendro at mobile phone number: 9402723243, the release added.
ALSO READ:
(The Imphal Free Press is on Facebook, Twitter, YouTube, Instagram, WhatsApp and Telegram. Join IFP News Update Group and stay updated with the latest news and impact stories)
First Published:
Aug. 1, 2021, 8:38 p.m.