Former Manipur Congress president Govindas Konthoujam joins BJP
Former Manipur Congress president Govindas Konthoujam has been inducted as primary member of the BJP.
---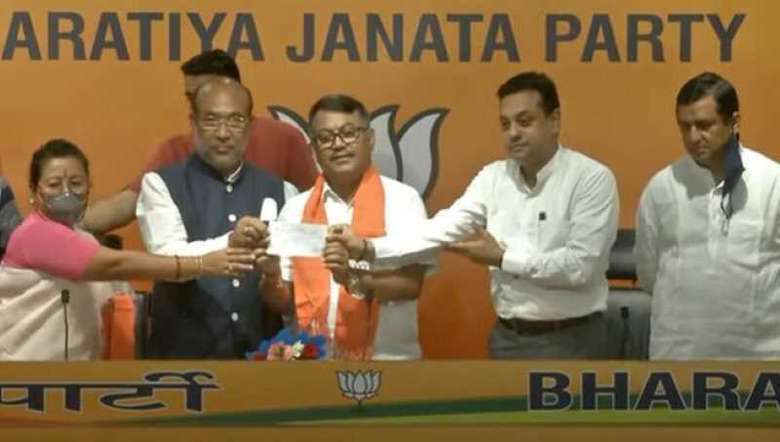 Former Manipur Congress president Govindas Konthoujam on Sunday joined the Bharatiya Janata Party (BJP) at a function held at its central party office in New Delhi on Sunday.
Union  minister RK Ranjan, MP Rajya Sabha, Leishemba Sanajaoba, state BJP president A Sarda, Chief Minister N Biren, BJP Manipur in-charge Sambit Patra and others attended the function.
Chief Minister N Biren took to Twitter and announced the news of Govindas joining his party, BJP.
"Giving a major boost to @bjp4manipur, former Manipur Congress President, Shri @KonthoujamG joined Bharatiya Janata Party today in presence of Shri @sambitswaraj, Prabhari BJP Manipur and Smt@AShardaDevi, President BJP Manipur," Biren tweeted on Sunday.
Other state Congress party leaders will also join the BJP soon, Biren said after Govindas was inducted into the BJP with a primary membership..  
During the function Biren said, "Govindas is my friend and had been working together during the then Congress government in Manipur. More Congress MLAs are going to join BJP soon. We will work together to strengthen the BJP in order to bring welfare for the people."
Govindas, elected six times from Bishnupur assembly constituency in Manipur, was a member of the All India Congress Committee and president of the Manipur Pradesh Congress Committee (MPCC) since December 2020.
Govindas, however,resigned as member of the state Legislative Assembly and from the Congress party's primary membership on July 28 after he stepped down as the stateCongress party president on July 20.
Also Read:
Read More News from Manipur
(The Imphal Free Press is on Telegram. Join IFP News Update Group and stay updated with the latest news and impact stories)
First Published:
Aug. 1, 2021, 1:38 p.m.