Jiribam pineapple farmers suffer amid COVID-19 pandemic
Farmers have appealed to Chief Minister N Biren to address the problem.
---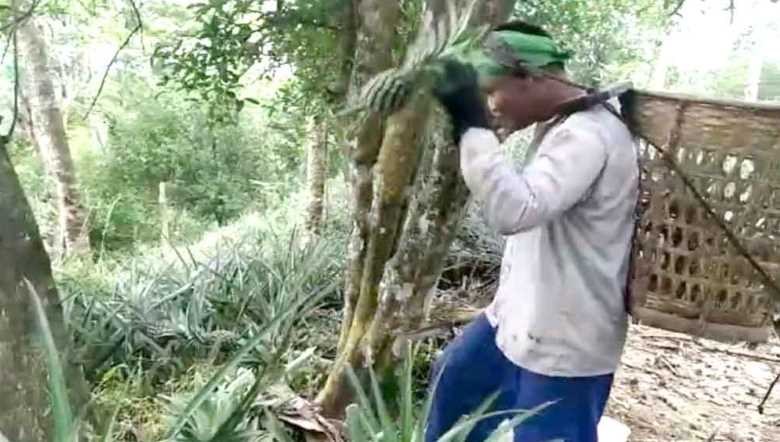 A pineapple farmer in Jiribam, Manipur (PHOTO: IFP)
---
Pineapples farmers and traders of Jiribam district are suffering immensely due to the pandemic and lockdown despite the availability of pineapples in abundance.
Farmers of Jiribam Barak Circle earn their living by selling pineapples in the state as well as in the neighbouring state of Assam.
However, due to lockdown and prohibition of inter-state movements, there is fear that huge produce of pineapples will go waste.
Farmers have appealed to Chief Minister N Biren to bring a solution to this problem.
A pineapple farmer, Lalchunghnunga said, "We sell pineapples planted here in Assam and Manipur. But we are facing difficulties in the present situation. Please help us."
Another farmer, L Zailawm said, "Pineapple farmers of Jiribam Barak Circle are suffering with no marketplace to sell the produce of this season. Pineapple has been the source of income for our livelihood. But due to COVID-19 and lockdown we find no market to sell."
He appealed to the chief minister to find a solution to help pineapple farmers.
Pineapple farming is one of the economy backbone for farmers in Manipur. Many villagers in Manipur and other parts of Northeast India take to pineapple farming owing to the suitable soil and climatic condition that makes the fruit distinctly fleshy, juicy and taseful.
Every year, the state observes pineapple festival in a grand manner. However, owing to the COVID-19 scenario, there was no public event to mark the festival which was held recently.
First Published:
June 28, 2020, 9 a.m.