Higher COVID-19 positivity rate shifting from urban to rural areas: Dr Rajo
The Manipur health director asserted that a community home isolation centre is highly essential in every district.
---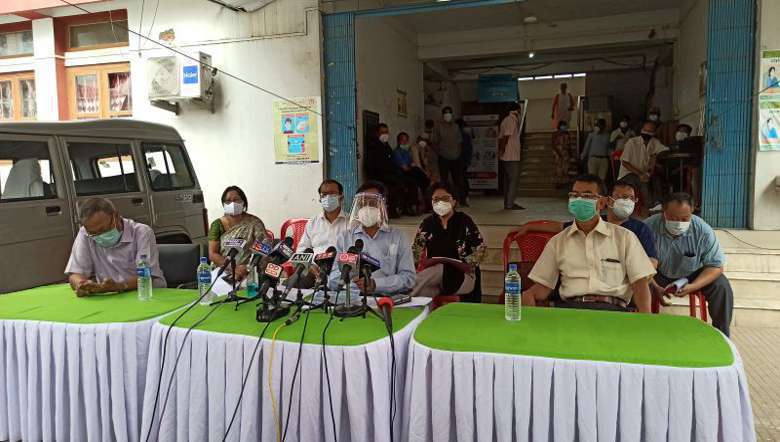 (PHOTO: IFP)
---
Higher COVID-19 positivity rate is now shifting from urban to rural areas as strict Covid Appropriate Behaviour is being better maintained in urban areas as per the findings of the Integrated Disease Surveillance Programme (IDSP), state Health director Dr K Rajo Singh said Friday.
Addressing mediapersons at the Medical Directorate Health Services Complex, Lamphelpat, Imphal on Friday, Dr Rajo said that in the last 10 days, district-wise data shows Imphal West and Churachandpur high positivity rate among valley and hill districts respectively.
Asserting that a community home isolation centre is highly essential in every district, Dr Rajo said in 28 Covid care centres, 3,206 beds are available, while a 300-bedded centre at NIT, Lamphelpat will be activated soon.
Dr Rajo also said that there are 150 community home isolation centres in all the 16 districts of the state.
In all the centres, the state government is providing meals to prevent further spreading of the virus, he said, adding that as per the government's order issued on July 26, meals are being provided to inmates of Covid care centres in the state.
Calling for collective efforts of health professionals, government and the public in battling the COVID-19 pandemic, the Health director stated that the government is carrying out mass awareness programmes on Covid appropriate behaviours, vaccination drive and mass Covid testing on war footing in the state.
If at any isolation centre, there is a requirement to engage nurses, then the concerned people should apply to the district chief medical officer or the deputy commissioner. If positive cases are increasing in a village, then a community centre can be opened, he said.
"House-to-house testing campaign is being conducted in all districts while the rate of contact tracing is also increased. Now, home testing kits are also approved for use at home," Rajo said.
Noting that the death rate is also decreasing, Dr Rajo assured that the state government is making all-out efforts to pay extra service pay and other due incentives to health workers, including doctors and nurses.
According to a house-to-house testing report, since July 10, a total 16,225 households have been covered; 31,579 persons were tested and 2,970 were found in contact tracing in 16 districts except for Ukhrul.
Expressing grief over the death of two doctors in Manipur due to COVID-19, Dr Rajo said that their families have been provided an ex-gratia amount of Rs 50 lakh each by the government.
Concerning Covid vaccination issues, according to vaccination officer Shyamjai, post Covid vaccination cannot be forced upon the patient. Pointing out that it is one's right to get vaccinated, he said that a person can take vaccination if one is healthy though post Covid patients should consult a doctor.
Due to lack of manpower, vaccination at far flung areas of hill districts is going at a slow pace, he added.
The state had also reported seven cases of black fungus. While two died of it, five other patients are under treatment, Dr Shyamjai said.
Dr Shyamjai further said that in the state, a total 2,662 police personnel tested positive, of which 216 are active cases while 2,426 patients have recovered and 20 died.
It was also informed that in RIMS, 300 beds are available and one oxygen plant has started functioning. 
According to JNIMS deputy director Lokeshwar, there are 234 beds, 40 ICUs and 20 more are on the pipeline to be added. He said that in JNIMS, the post Covid ward is ready for those patients who require multi-disciplinary treatments. He said that 95 per cent of death cases are unvaccinated persons, and one per cent of the population which has received the first dose and fully vaccinated persons will not get serious illness. Health representatives from all sections were present at the press meet held on Friday. 
(The Imphal Free Press is on Telegram. Join IFP News Update Group and stay updated with the latest news and impact stories. Like Imphal Free Press on Facebook and follow us on Twitter)
First Published:
July 30, 2021, 10:46 p.m.