Desire to put tiny state of Manipur on world map has been one of my driving forces: Mirabai Chanu
Olympics silver medalist Mirabai Chanu returned home to a rousing welcome in Manipur on Tuesday.
---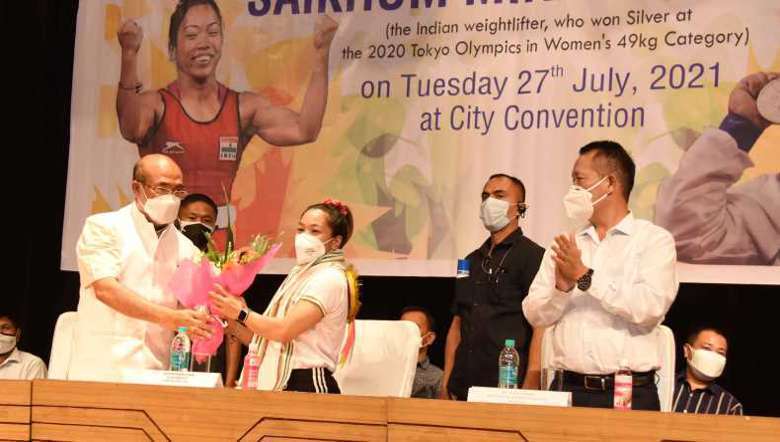 India's Olympic medalist Saikhom Mirabai Chanu gets a warm reception at the City Convention Centre, Palace Compound, Imphal (PHOTO: IFP)
---
After setting off India's Olympic campaign with a silver medal, Saikhom Mirabai Chanu, returned to Imphal on Tuesday to a rousing welcome.
Mirabai landed at the Bir Tikendrajit International Airport in the afternoon as hundreds gathered to welcome the ace weightlifter. Chief Minister N. Biren Singh and his entourage were among those who had come to receive Mirabai.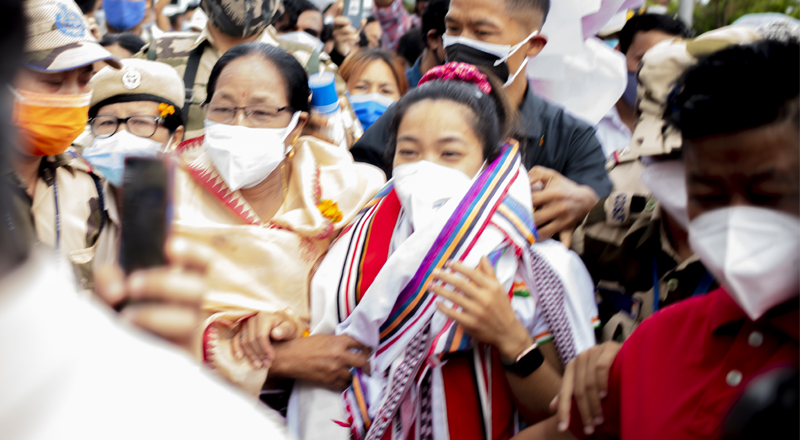 From the airport, she was escorted to City Convention Centre, Palace Compound, Imphal, wherein the state hosted a grand reception ceremony for her. During the function, Chief Minister Biren handed over the reward of Rs 1 crore along with an appointment letter for the post of additional SP (Police) to Saikhom Mirabai.
After the felicitation, Chanu headed to her native village Nongpok Kakching led by a motorcade of well wishers, local clubs and police.
Despite the ongoing curfew to curb Covid-19, hordes, including young and old, lined up to cheer Mirabai all along the way to her village. The slogans "Long live Mirabai, Long live Manipur", rent the air as her motorcades drive through the streets of Imphal.
Many even attempted to present flowers and garlands only to be prevented by the police, citing Covid restrictions.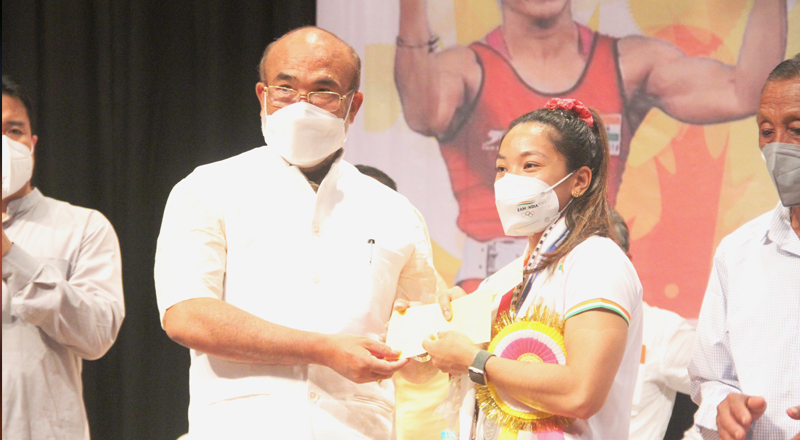 (PHOTO: IFP)
 "I have no words to express how happy I am. The love and support extended to me is overwhelming. Right from the airport till here your warm welcome has this day the greatest day of my life", Mirabai said addressing a gathering at her village.
Earlier, during the felicitation function, Mirabai said, "My strong desire to put the tiny state of Manipur on the world map has been one of my driving forces to achieve this medal,".
Maribai attributed the Olympic glory to the unflinching support of her parents, coaches and well wishers.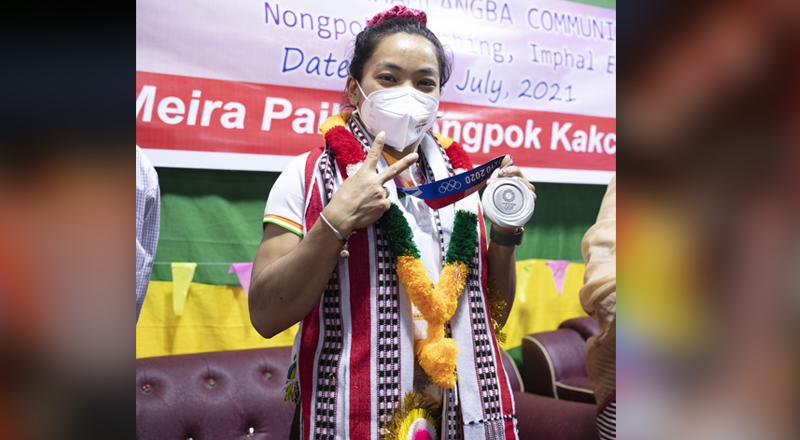 (PHOTO: IFP)
Losing in the Rio Olympic 2016 was the stepping stone to achieve this medal, she said.
Biren said that winning a silver medal in the Tokyo Olympics by Saikhom Mirabai Chanu is the proudest moment for the state. He congratulated Mirabai's parents stating that her daughter has become the first athlete of Manipur to win a silver medal in Olympic Games.
Acknowledging the role of local clubs in promotion of sports, the chief minister said his government has decided to provide financial grants to the associations/clubs affiliated with Manipur Olympic Association.
He also exhorted Mirabai to take this achievement as the beginning of her journey and continue to put in her efforts till she wins a gold medal in the Olympics.
YAS Minister Letpao Haokip said by winning the silver medal in the ongoing Tokyo Olympics Mirabai has proved that even a small state can stand tall at the international level.
During the function, YAS department presented Rs 10 lakh to Mirabai Chanu for breaking the world record by lifting 119 kg in clean and jerk at Asian Weightlifting Championship held in April this year.
Education department also handed over a cash reward of Rs 3 lakh to the silver medallist.
Watch how Mirabai Chanu's family celebrated her Olympic win
(The Imphal Free Press is now on Telegram. Join IFP News Update Group and stay updated with the latest news and impact stories)
First Published:
July 28, 2021, 7:59 a.m.