Thoubal's Go Clean mission completes 365 days
Volunteers planted tree saplings and cleaned up streets and alleys at Wangjing and Lamding on Monday.
---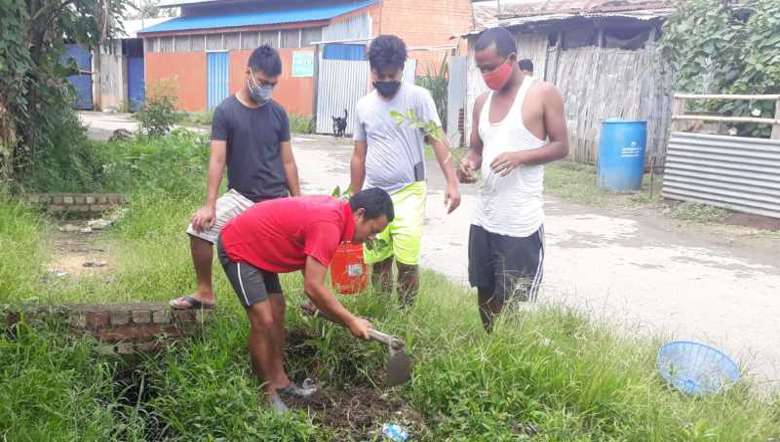 Commemorating 365 days of the 'Go Clean-Mai Nanbagum Akoibabusu Nalhansi (Let us keep our surroundings clean like our faces)' mission undertaken at Wangjing and Lamding villages, volunteers planted tree saplings and cleaned up streets and alleys in the two villages on Monday.
Ever since the launch of the mission, volunteers of Go Clean had been taking up cleaning activities on a daily basis in order to keep and maintain the atmosphere of the two villages. "We will continue our regular activities and try to make the surroundings as immaculate as possible," a volunteer added.
President, Go Clean Narengbam Rajivkumar said the mission was able to successfully complete a year due to the support and motivation from the locals. People from various parts of the state and outside Manipur are also assisting our activities thereby rendering their support and encouragement, he said.
Treasurer, Go Clean Chongtham Sanjoy said that the Go Clean mission was initiated in the two villages after being inspired by visits to various places in the state and the country with clean and pristine surroundings besides the images of the neat and tidy atmosphere of developed nations all across the world.
"The mission was launched with the objective to help people in our society cultivate the habit of keeping their surroundings clean and tidy, and if it inspires even a single individual, the mission can be deemed as fruitful," he added.
It may be mentioned here that the Go Clean mission was launched at Wangjing Kodompokpi Polo ground last year, and volunteers have been dedicating at least an hour daily to cleanliness activities ever since. Besides this, Go Clean had also presented aid to environmentalists and cleanliness activists as tokens of appreciation and encouragement.
Read More News from Manipur
(The Imphal Free Press is now on Telegram. Join IFP News Update Group and stay updated with the latest news and impact stories)
First Published:
July 27, 2021, 8:37 a.m.