Vehicle lifter involved in various cases arrested, seven vehicles recovered
The arrested person has been identified as Yumkhaibam Moshin alias Ningthem, 19, son of Md Noorjaman of Lilong Haoreibi Awang Leikai.
---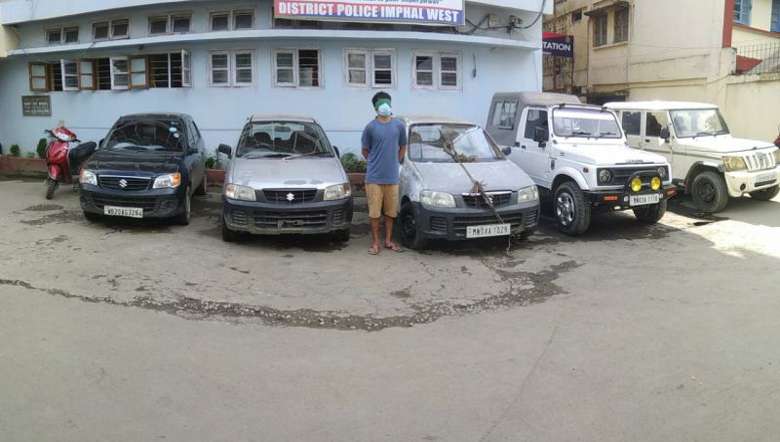 Vehicle lifter along with stolen vehicles
---
One vehicle lifter, involved in three different police cases, including one hit-and-run case, was arrested by a combined team of Imphal West district police on Monday from Lilong Eshing Kaipham also known as Taret Loubuk near Lilong Awang Leikai and recovered six stolen four-wheelers and one two-wheeler.
The arrested person has been identified as Yumkhaibam Moshin alias Ningthem, 19, son of Md Noorjaman of Lilong Haoreibi Awang Leikai.
Speaking to the media persons in a press conference held at his office conference hall at Babupara, Imphal, Imphal West SP, S Ibomcha said that the vehicle lifter was arrested in connection with two cases registered at City Police Station regarding stolen of a four wheeler (Bolero) bearing registration number MN01X-0434 (white in colour) and one two wheeler (Honda Activa) bearing registration number MN01AD-8807 (red in colour). The two vehicles were stolen from in front of the state BJP office located at Nityaipat Chuthek, Imphal on Friday last at about 5pm, he added.
He said that as a part of the investigation various CCTV footage were collected from in and around Imphal areas and analysed along with intelligence reports from various sources. From the CCTV footage it was learnt that the accused used one four-wheeler (Alto K10) bearing registration number WB20AG-3284 during the time of stealing the Bolero and Activa.
Acting on information based on intelligence report that the said stolen vehicles might be in Wangoi area, a combined team of district commando led by commando OC, Imphal West, P Achouba and, city police OC, M Sudhhir Meitei along with four teams of commando, Thoubal district raided at a location at Lilong Eshing Kaipham near Lilong Awang Leikai Idigah. During the raid, Moshin was arrested and seized two alto cars, one silver colour car without registration number and another black colour car that was used at the time of committing the crime. The black alto car belongs to one of his companions Md Ashiqur alias Atomba, 21, son of Md Alauddin of Lilong Awang Leikai near Eshing Kaipham, he added.
Later, the police team recovered the stolen Bolero that was replaced with a new registration number AS-01BE-5197, one Gypsy bearing registration number MN03A-1110 and one Alto car bearing registration number MN04A-1029, said the police officer.
On the disclosure from Moshin it was learnt that Md Asgar Ali, 38, son of late Md Nasib Ali of Lilong Awang Leikai Shambukhong was the mastermind of the two crimes and his house was seized, he added.
The stolen Activa was also recovered from the possession of Moshin that was stolen on the same day from in front of the state BJP office, said Ibomcha.
During examination and verification it was found that Moshin is a habitual offender of such crimes and he was previously arrested in connection with FIR No. 53(4)2017 City PS u/s 379 IPC and FIR No. 99(8)2018 Imphal PS u/s 379/34 IPC. A murder case was also registered against Moshin at Lilong Police Station, said the Imphal West SP.
The two other persons, Asgar, who is a teacher of district council and also the mastermind of the two crimes and Ashiqur are still at large. If they are also arrested then the activity of stealing vehicles could be minimised after cracking their stealing network, said Ibomcha.
(The Imphal Free Press is now on Telegram. Join IFP News Update Group and stay updated with the latest news and impact stories)
 
First Published:
July 20, 2021, 8:49 p.m.