Stepping into the world of happy feet with colourful slippers
IFP Exclusive: A young couple in Churachandpur ventured into small-scale manufacturing of slippers to reach out to the poor and unemployed and bring about a change in society
---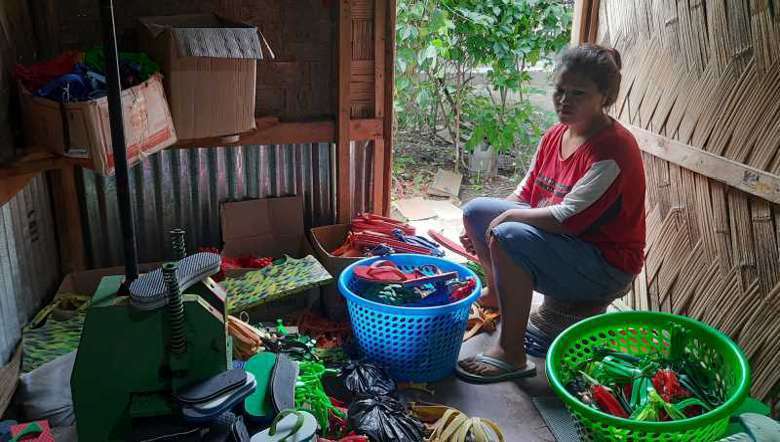 Churachandpur, Manipur (Photo: IFP_Lelen Veiphei)
---
IT was February 2020, when they ventured into the world of happy feet to bring a change. Since then there has been no looking back. Their day is filled with newly made colourful slippers, as they busy themselves inside a small bamboo house, making slippers of different sizes for both men and women.
One Mimin Vaiphei and his wife, Zoukim Vaiphei, a young couple from T Khawvaiphei village, Churachandpur district of Manipur in Northeast India, have been producing slippers in a small scale for a living.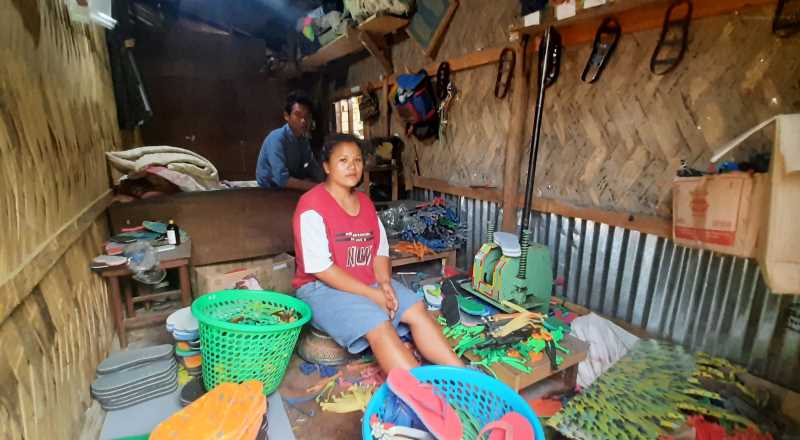 Mimin Vaiphei and his wife, Zoukim Vaiphei (Photo: IFP_Lelen Veiphei)
In an effort to reach out to the poor and capture the low-budget market, the two have been moving forward by producing affordable slippers. Not only the poor, but also people from all walks of life come to buy their products.
Spinning a living by making slippers in a place highly dependent on goods from outside the district or state, the enterprising couple in their thirties has been setting an exemplary life to the thousands of unemployed people in the district.
It was a humble beginning. Their journey into the world of slippers began with a small investment of around Rs 60,000 which includes the price of machines and raw materials. The slippers they produced gained popularity for its affordable price tag compared to the price of slippers sold in the markets.
When this Imphal Free Pressreporter visited their shoe-making hut and asked what motivated them to venture into the trade of making slippers, Mimin Vaiphei said, "I want to become an employer rather than being an employee. I want to change the mindset of the people - that they can also become an employer and employ even non-locals rather than working as an employee under non-locals".
Mimin said he wanted to prove that there are many other employment opportunities or means of earning besides working as a government servant.
In the present day, especially among a few communities, there is a trend among the people with poor financial background and middle class to look for government jobs alone. There seems to be no other means of livelihood besides joining the active service, he added.
It is sad to see many families selling their lands, plots and other properties so that they can use the money to buy government job and services, Mimin said.
Even among the well-to-do families, some of them want to invest more in buying government jobs for their children rather than look for other means. The mindset or the will to become an employer is still yet to seep in among the tribal people, he stated.
It is also unfortunate to see many educated youths would spend their youthful days working outside the state in like call centres, malls and become jobless when they return home, said Mimin.
Mimin, who also spent his youth outside the state, said he observed that businessmen live more luxurious lives than those working in the public sector. And as such he thought of starting his own business.
They decided to start the slipper factory since every young and old, rich and poor wear slippers, Zoukim said, adding that it is an essential item for all.
She also said that their target is first to capture the people from poorer backgrounds who find it hard to purchase similar designs sold by big brands.
"Rich families could afford slippers with higher price from famous brands and at present we are not in a position to compete with those brands. However, we believe that the slippers we produce could become at least home wear slippers even for them," she said.
Mimin said they made 200 pairs of slippers starting February 2020 as a trial and they managed to sell it in a short time. The response from the public was overwhelming that even some of the reject pieces were sold out, he added.
However, with the onset of the pandemic and the lockdown, they had to halt the production. With the manual machine that they owned at present, the whole process of producing a pair of slippers take 10 minutes and they could complete two dozen slippers a day.
Mimin said the number of productions can double in a day once they can upgrade their machine to hydraulic machines.
They managed to gradually restart the production this May with the manually managed machine. Till date, they have sold nearly 1000 pairs of slippers.
One Nengpi, who recently bought the slippers from the couple, said, "The slippers look good and are comfortable to wear. It is only Rs 100."
The demand for their product has grown and they have recouped the capital amount they invested.
The couple, however, is still in the process of branding their product since they want it to be unique and stand out from the rest.
"Had there been no COVID or pandemic we could have advertised our slippers in the markets and increased our sales. But at the same time, it is also a blessing in disguise for us since we could also sell the slippers since the markets are closed," Mimin said.
At present they are not in a position to meet the demands. There is an increasing demand for the slippers in large quantities. They are trying hard to meet the demand by working late into the nights. They plan to engage helpers in the factory soon.
In the near future, they plan to upgrade the designs and prints of the slippers and produce flip flops. They also have plans to expand their market in the entire district.
First Published:
July 5, 2021, 3 p.m.