Manipur: Mass COVID-19 vaccination carried out at Henbung village
A total of 310 individuals were vaccinated on Sunday.
---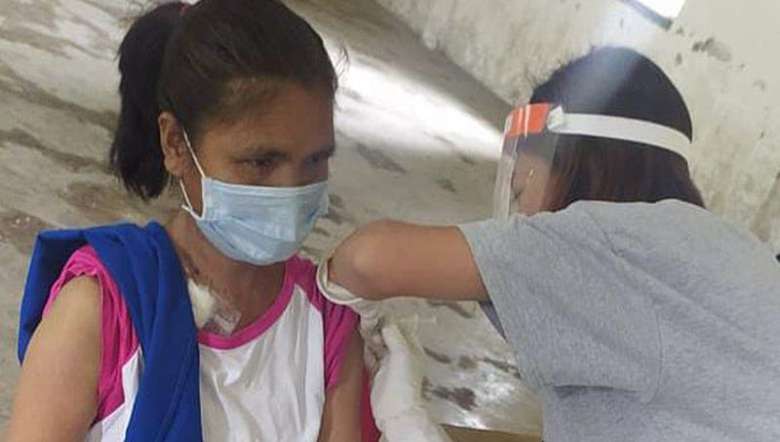 (PHOTO: IFP)
---
A mass vaccination was held on Sunday at Hengbung village under the supervision of medical superintendent of District Hospital Kangpokpi Dr Paotinlal Haokip, during which 310 individuals were vaccinated, the highest in the district so far.
The medical department and Kangpokpi assembly constituency MLA Nemcha Kipgen have been pushing forward the advocacy for mass vaccination in the district as well as Kangpokpi assembly constituency while the district magistrate/DC had also instructed his subordinate SDOs to begin extensive advocacy with regards to vaccination in their respective jurisdiction.
Among the 310 vaccinated people, one patient undergoing dialysis and another Hemiparesis patient were also vaccinated at their respective residence at Hengbung village by the medical team supervised by Dr Paotinlal Haokip.
Chief Minister N Biren Singh in his Facebook post acknowledged the sterling efforts of the medical department on mass vaccination even on Sunday.
He said the vaccination drives are underway in full swing despite it being a Sunday in Kangpokpi district. "Let us encourage our family, colleagues and friends around us to get vaccinated at the earliest. Please remember, no one is safe until everyone is safe," he said.
Meanwhile, an advocacy programme on vaccination was also held at various places in Kangpokpi assembly constituency as it has been expedited by the medical department in the district.
An advocacy programme on vaccination and Tuberculosis was held at Daili village under the supervision of MO in charge of PHC Kalapahar Dr Pilhing, and, district tuberculosis officer Dr Len Kamkhosat Khongsai in collaboration with the Covid task force concerned while a similar advocacy programme was also held at Tumnoupokpi community hall in collaboration with Covid task force Yaikongpao-Tumnoupokpi.
Another advocacy programme on vaccination was held at Haipi village by Dr Paotinlal Haokip, and Dr Pilhing in the presence of Haipi village authority, Church leaders, women society and youth leaders while the mass vaccination was held at the village.
As instructed by l MLA Nemcha Kipgen in the third review meeting, all the seven Covid task forces of Kangpokpi assembly constituencies have begun extensive awareness among the people in their respective areas.
Any willing persons from Kangpokpi assembly constituency to get vaccinated will be transported by the COVID-19 vaccination bus provided by the local MLA free of cost after the Covid task force concerned helped them arrange their required documents for the vaccination and due consultation with the vaccination in-charge officer.
Meanwhile, with six more new infections were detected in the last 24 hours in the district and following three Covid patients cured and discharged from Home Isolation today, the active case in the district however climbed up to 140 despite being 138 till Saturday.
No Covid death has been reported till the filing of this report.
Kangpokpi district is among the low percentage districts in terms of vaccination with about 16 per cent.
First Published:
June 27, 2021, 9:15 p.m.