Tamil Nadu's KARE and TECC's Education Division ink MoU for Mandarin teaching
KARE to have Taiwan Education Centre for Madurai region
---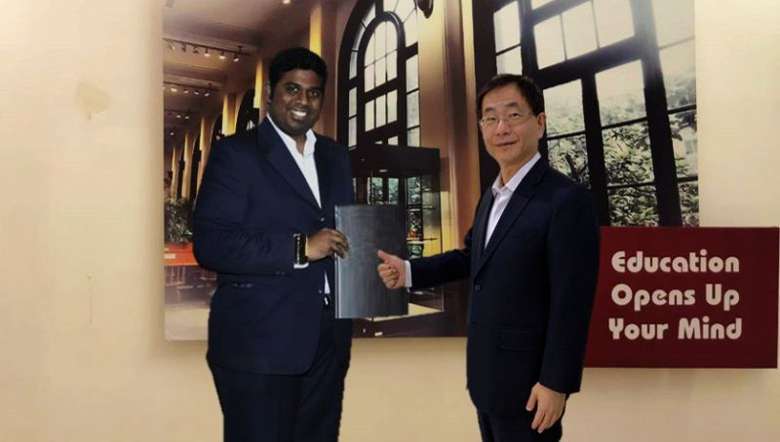 KARE Vice President Dr Shashi Anand and TECC Representative Baushuan Ger
---
The Education Division of the Taipei Economic & Cultural Centre in India (TECC) signed an MoU with Kalasalingam Academy of Research and Education (KARE), Tamil Nadu to set up the first Taiwan Education Centre in the Madurai region. This is a milestone for educational institutes in this region to work with Taiwan for Mandarin teaching and further academic collaboration. 
TECC Representative Baushuan Ger said, "The joint collaboration would be a positive step in making the two countries mutually connected through the medium of education. We, TECC in New Delhi and TECC office in Chennai, will facilitate the academic exchanges between KARE and universities of Taiwan. Currently there are 3,000 Indian students studying in leading universities in Taiwan. We expect this number will further increase in the near future."
KARE Vice President Dr Shashi Anand said, "Kalasalingam Academy of Research and Education (KARE) has been serving the society for thirty-five long years and it caters to the needs of the students from all walks of the society. It is very important to have our internationalization reach out to Taiwan in East Asia. We have Mandarin course for our students and will conduct student exchange programmes and more academic collaboration in the future." 
"KARE offers UG programmes, PG programmes and PhD programmes. Eleven of the undergraduate Engineering programmes are accredited by ABET, USA. The Institution has been re-accredited by NAAC with 'A' grade. Six UG programmes have been accredited by NBA under Tier-1. The institute is ranked 60th in engineering category and 72nd in the university category in NIRF ranking 2020," Dr. P Sarasu, Director of International Relations added. 
Institution continues to do indefatigable work in getting projects and research centres. It has received DST funding to establish the National Centre for Advance Research in Discrete Mathematics.
TECC Education Director Peters Chen said, "as per the MoU, the Taiwanese teacher will conduct Mandarin classes for the students and help them gain Mandarin language skills and information regarding studying in Taiwan, including available scholarships, internships opportunities, and so on. TEC@Kalasalingam will create the opportunities to the students to KARE to learn Mandarin language, join internship programme and to further enhance their career development in Taiwan or at Taiwanese industries in India." The COVID-19 pandemic has affected education a lot, but KARE has started to prepare virtual exchange programme with Taiwan's universities, as well as outreach activities through university-level MOUs.                
In 2011, Taiwan Education Centre started its first centre at O.P. Jindal Global University, Haryana. Since then many centres have opened in various universities including Rashtriya Raksha University, IIT Bombay, IIT Madras, Amity University, Jamia Millia Islamia, etc. The establishment of the centres throughout the years not only has fostered exchange of education but also has acted as a medium to know more about the culture of two nations, their economic and social development. 
Meanwhile, with hopes of attracting more foreign talent, the Taiwan government has made some changes in its employment policy to encourage foreign professionals to work in the country. Certain revisions have been made to the Act for the Recruitment and Employment of Foreign Professionals that would help make Taiwan more accommodative for foreign professionals seeking work opportunities, including Indian students.
Mr Chen said, "this amendment of the Act approved by Taiwan's Parliament last Friday can be seen as a positive step towards encouraging Indian students to consider Taiwan as a destination for pursuing their higher studies. The new law would allow foreign students who hold a postgraduate degree or an undergraduate degree from a Taiwanese university to directly seek a job in Taiwan as a foreign special professional without the current requirement of two years of work experience."
Furthermore, "foreign special professionals" who possess special expertise needed by Taiwan in science and technology, business, education, culture, the arts, sports, or other fields can apply for permanent residence in Taiwan after staying in the country for three years, instead of the current five years. The new rules also include provision of tax exemptions and inclusion in Taiwan's national health insurance scheme. 
Especially for Indian students, the deregulation has come as good news. With 608 university-level MoUs between two sides and around 3,000 Indian students studying in Taiwan, students now will have access to more opportunities and time to explore different job prospects in Taiwan. These new law would benefit the many Indian students studying in Taiwan. Compared to the cost of living, salaries in Taiwan are relatively high with average salary for graduate students being more than Rs.1 lakh per month, 
hence making it an attractive destination for Indian students to work or pursue their higher studies. The new law would encourage more Indian students to stay and work in Taiwan after completion of their studies and this would eventually help to improve bilateral relations between India and Taiwan in the coming years.
First Published:
June 23, 2021, 1 p.m.