Four Covid caesarean births delivered in span of 12 hours at RIMS
'RIMS to comply with EPF & Misc Provision Act, 1952'
---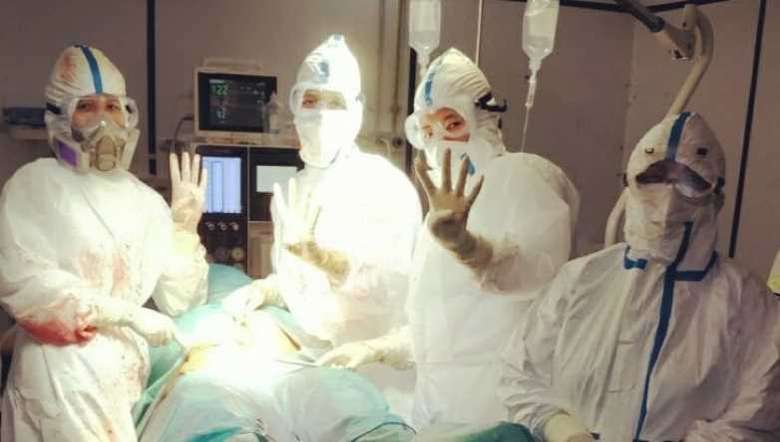 June 21, 2021 will be remembered as a historic day in the department of Obstetrics and Gynaecology, Regional Institute of Medical Sciences, Imphal (RIMS) as four Covid caesarean births were successfully delivered in a span of 12 hours, including two critical cases, RIMS announced on Tuesday.
Earlier, two cases of Caesarean Section (one had dense adhesion) one breech in labour and one fetal distress (this case had atonic PPH) were also done at the beginning of a weeklong duty, RIMS stated in a release signed by media advisor N Philip Singh.
Senior resident Dr Manjushree, Dr Pavithra and Dr Florence, passed out PG students and Dr Dhivya Bharathi, a final year PG students of Obstetrics and Gynaecology department  along with a team of doctors namely Dr Magdaline, Dr V Vasantharajan and Dr Brati Mukhopadhyay from Anaesthesiology department were involved in the Caesarean Section, RIMS stated. They managed COVID OT as well as COVID ICU, it further stated. Dr Nafisa of Paediatric department was also involved in resuscitating the newborn baby in distress and bringing it back to life, it added.
The major contribution of operation theatre staff nurses, Zillah, Manglembi, Geetarani, Bimola, Monorama and Ambika, OT assistant, Munal, OT attendants, CRED staffs and the ambulance drivers etc. all have made Marathon caesareans easier, RIMS stated.
RIMS also announced that it will comply with EPF and Misc Provision Act, 1952 and also implement minimum wages rate to the contract employees soon.
RIMS has initiated to register all the contract employees to the web portal of the Ministry of Labour and Employment with the help of the Enforcement Officer, EPFO, Imphal to get EPF Code and password, it stated. The institute has been circulating and informing all the contract employees three times to submit a copy of Aadhaar card and PAN card for allotment of UAN number, it stated.  
So far, 295 contract employees have been allotted UAN number while other remaining contract employees also will be allotted UAN number after submission of Aadhaar cards by the contract employees, RIMS stated.
In the same time, the institute has submitted a letter dated March 2 to assistant PF Commissioner (Compliance), EPFO, RO Guwahati K Hungyo that the time limitation for the allotment of UAN number and generating of Challan may kindly be extended and requesting to make awareness campaign among the contractual employees of RIMS, Imphal as some of the contractual staff are unaware of the importance of EPF deduction from their wages.
The Institute vide letter no. SFC/RIMS-2019 dated March 2 sent a request to the deputy secretary, Ministry of Health and Family Welfare, Government of India for approval in connection with the implementation of Minimum Wages rate issued by the Ministry of Labour. The institute is awaiting the reply, RIMS stated.
The institute is also considering an increase in the wage rate for the Grade-IV contract employees, it added. 
First Published:
June 22, 2021, 8:39 p.m.