Imphal West continues to witness highest daily COVID-19 positive cases in Manipur
As many as 228 of the total 575 new COVID-19 positive cases were reported from Imphal West.
---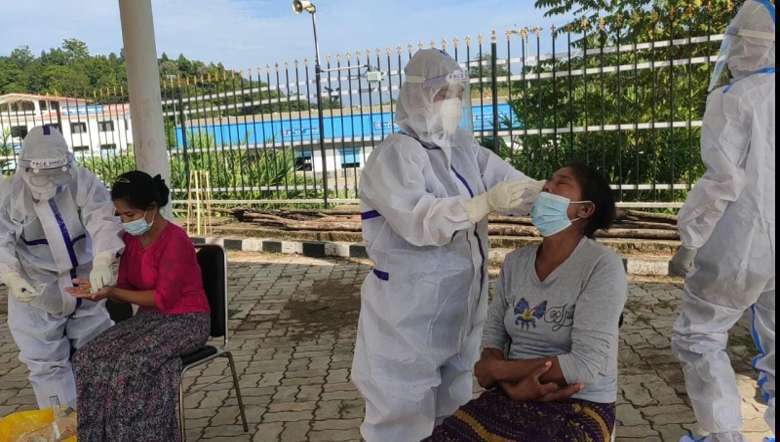 (Photo: IFP)
---
Imphal West district in Manipur continued to witness the highest daily COVID-19 positive cases of 228 on Tuesday as the state reported a total of 575 new cases in the last 24 hours, as per the latest update by the state health department.
The total daily new COVID-19 positive cases reported on Monday was 353. 
Imphal West was followed by Imphal East with 100 new COVID-19 positive cases, Thoubal with 67 and Kakching 43. Churachandpur district reported 30 new cases, Bishnupur 28, Chandel 21, Jiribam 16, Kamjong and Pherzawl two each, Kangpokpi nine, Noney one, Senapati three, Tamenglong eight, Tengnoupal, seven, and Ukhrul 10.
Four of the new COVID-19 positive cases were personnel of the Central Armed Police Force, a release from the COVID-19 Common Control Room stated. It stated that the state's cumulative number of COVID-19 confirmed cases rose to 64,993 as of Tuesday.
The state's daily COVID-19 death toll, which the chief minister said on Monday had fallen to a single digit, rose back to 10 on Tuesday. Bishnupur witnessed three deaths, Imphal West two, and Churachandpur, Imphal East, Kangpokpi, Tengnoupal and Thoubal reported one fatality each. With it, the state's death toll climbed to 1,065.
In all, 649 more COVID-19 patients recovered in the last 24 hours, pushing the total number of recoveries to 54,714 cases. The recovery rate improved to 84.18 per cent. With it, the cumulative number of active cases is now 9,214.
Meanwhile, in the last 24 hours, a total of 1,740 D-type oxygen cylinders and 337 B-type oxygen cylinders were made available to different health facilities of the state - Bishnupur district hospital - 113D,7B type oxygen cylinders, Chandel - 28D, 9B; Churachandpur - 87D, 0B; Senapati - 48D, 0B; Thoubal - 65D, 33B; Ukhrul - 34D, 15B; Tamenglong - 8D, 1B; Jiribam - 33D, 12B; Moreh - 19D, 8B; Kamjong - 3D, 1B; Kangpokpi 4D, 0B; Kakching 6D, 16B; Noney - 2D, 0B; Pherzawl - 6D, 2B; and in Covid Care Centress 341D, 99B oxygen filled cylinders.
The total number of persons vaccinated in the state reached 500408 as of Tuesday, the release added. 
First Published:
June 22, 2021, 6:33 p.m.