Volunteers of 'Mask Kangpokpi' campaign ensures Covid appropriate behaviour in town
Volunteers of Covid task force Kangpokpi were also seen monitoring the opening of the market in the town and ensuring that all shopkeepers possessed Covid free certificate
---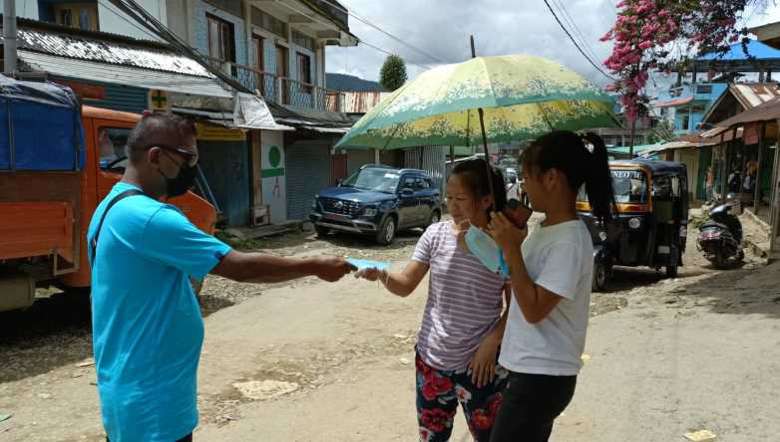 (Photo: IFP)
---
As a part of its preventive measures, the Covid task force Kangpokpi continues its 'Mask Kangpokpi' campaign on Monday in the district headquarters.
Chairman Covid task force Kangpokpi Haolet Khongsai said that as it was a market day, they want to ensure everyone coming out to market wear a mask, and they monitored it to see there are still many people who do not follow the Covid appropriate behaviour in town.
He continued that such negligence and carelessness of the people would be detrimental to many other innocent people.
The task force volunteers were seen distributing masks in the town to those who come out without wearing a mask and cautioned them to take befitting action and punishment if they failed to follow Covid appropriate behaviour in the future.
Volunteers of Covid task force Kangpokpi were also seen monitoring the opening of the market in the town and ensuring that all shopkeepers possessed Covid free certificate while strictly enforcing social distancing and other Covid appropriate behaviour during the opening of the market.
Meanwhile, COVID-19 claimed one more life in Kangpokpi district on Monday as a 62-year-old man Droeing from Kangchup Chiru under Kangchup Geljang sub division of Kangpokpi district succumbed to the virus this morning at RIMS Hospital Imphal.
With one more death, the COVID fatality in the district stands at 35 while the infection has climbed again to 98.
First Published:
June 22, 2021, 9:20 a.m.