COVID-19 situation in Manipur eases, but vaccination is a must: CM Biren
In observance of the International Yoga Day 2021, the chief minister held a yoga session with BJP national spokesperson Sambit Patra and other party members and urged the people to embrace yoga..
---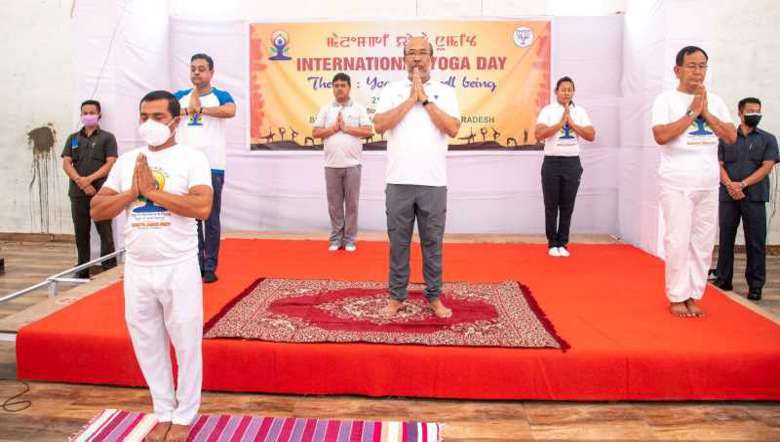 (PHOTO: Twitter)
---
Manipur Chief Minister N Biren Singh on Monday said the COVID-19 pandemic situation in Manipur is easing as the mortality rate is back to single digit and the number of daily positive cases is also decreasing. However, vaccination is compulsory to contain the spread of the virus.
Biren was speaking on the occasion of the seventh International Yoga Day observed at the auditorium hall of state BJP office located at Nityaipat Chuthek, Imphal on Monday.
He was joined by BJP national spokesperson Sambit Patra, Lok Sabha MP RK Ranjan, Works Minister Th Biswajit, boxer Laishram Sarita, state BJP president in-charge, Usham Deben and other party members.
Urging the peopleto embrace yoga, the chief minister said that maintaining regular exercise, including practicing of Yoga in daily life, will strengthen the body's immune system which will help in defending the attack of COVID-19.
"In observance of #InternationalDayofYoga, I along with @sambitswaraj Ji, Abhay Giri Ji, Th Biswajit Ji, RK Ranjan Ji, renowned boxer Sarita Devi Ji & karyakartas held a yoga session. Let us embrace our nation's greatest contribution to the world in the field of health and wellness," the chief minister had tweeted early in the day.
During the occasion, Biren also said that the practice of Yoga has been recognised by the United Nations and due to the reason, the seventh International Yoga Day is observed under the theme "Yoga for wellness" across the world.
He said the members (karyakarta) of state BJP has been taking various initiatives by giving necessary assistance, including awareness on COVID-19 to the people, who are suffering from the pandemic. The awareness on COVID-19 will be intensified with collaboration with the sportsperson.
The BJP national spokesperson also spoke on the occasion and said yoga is an important means to protect mankind. "Common people easily suffer from COVID-19. However, people who have a habit of regular exercise, yogis, sportsmen are hard to get infected," he said.
He said Manipuris have a healthy lifestyle with healthy diet and people should continue such food habit in order to strengthen the immune system while fighting against COVID-19.
Also Read:
First Published:
June 21, 2021, 12:58 p.m.