'This is our moment to grow more trees, replenish our gardens, change our diet and clean up our streams and rivers'
Security forces and civilians planted 1,000 tree saplings as a part of the three-day green mission in Tamenglong
---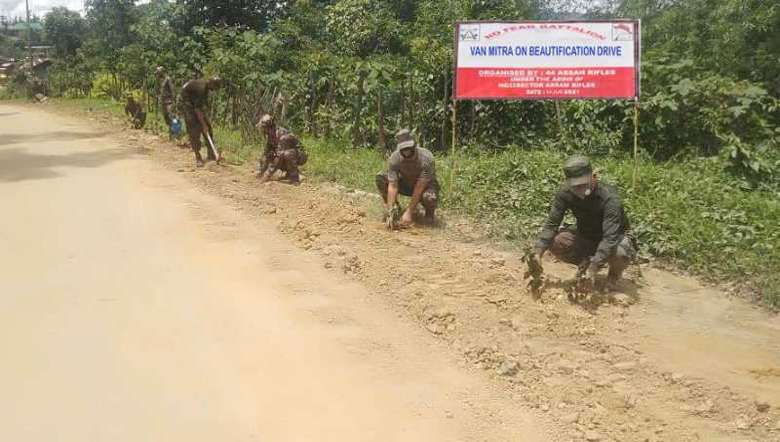 (Photo: IFP)
---
As a part of the three-day green mission and to combat global climate change through nature-based solutions, security forces and civilians planted 1,000 tree saplings in an area spread across more than 5 km at Tamenglong district headquarters on Monday. 
Amid fear of COVID-19 pandemic, the 44 Assam Rifles under the aegis of 22 Sector Assam Rifles IGAR (E) in collaboration with the Rainforest Club Tamenglong on Monday started a three-day tree saplings plantation drive in fragile areas of Tamenglong district.
Led by 44 Assam Rifles commandant Pradeep Kumar and the Rain Forest Club, Tamenglong project coordinator Duanguanglung Kamei, members of the unit Van Mitra launched afforestation efforts to combat climate change. 
Speaking on the occasion, 44 Assam Rifles Commandant Pradeepkumar said that now it is time to help nature heal the earth. The lockdown has given some spare time to contribute constructively to ecosystem conservation, he added. 
According to the commandant, life supporting functions including food, timber, clean air, unpolluted water and fertile soil can be re-established by healing nature and ecosystems. He urged the youth, especially the school children to help nature in restoring ecosystems by actively planting trees and contributing in reducing pollution in the local environment.
He said that life on earth is supported by ecosystems across the world. The COVID-19 pandemic has helped heal nature to an extent but overall plastic waste has increased. 
"The virus has forced us to be supplied with plastic packed products for our daily day to day needs. The daily plastic waste collected from each household including rural areas has increased manifold during this pandemic period," the commandant said.
Urban and rural landscapes have different ways and means to adapt and restore its ecosystem. It definitely includes conservation of the fragile ecosystems or even one's which are still intact , he said.  
He further said that the developmental activities in the hill region of Manipur especially Tamenglong district is impacting the ecosystem. Efforts to only reduce packaging plastic wastes are not going to help the ecosystem until it is supplemented with green mission initiatives by planting more saplings, he added.
The commandant asserted, "If we do not save nature now, we will probably not be able to achieve sustainable development in Tamenglong district." 
The enthusiastic villagers from all age groups joined the soldiers in planting tree saplings. The saplings of local plants were collected and nurtured by the villagers themselves.
"This is our moment, we need to grow more trees, replenish our gardens, change our diet and clean up our streams and rivers. Let us be bold, not timid, and 'each one plant one' is the need of the hour to save the fragile ecosystem of Tamenglong," Pradeepkumar said.
Similar plantation drives were undertaken by unit troops in other parts of the district. The unit in these three days of plantation drive, shall plant more than 5,000 saplings all across Tamenglong district.
First Published:
June 14, 2021, 10:34 p.m.