Tamenglong relaxes curfew, announces Rs 50,000 to village with highest vaccination percentage
Curfew time has been relaxed from 6 am to 12 noon in Tamenglong town.
---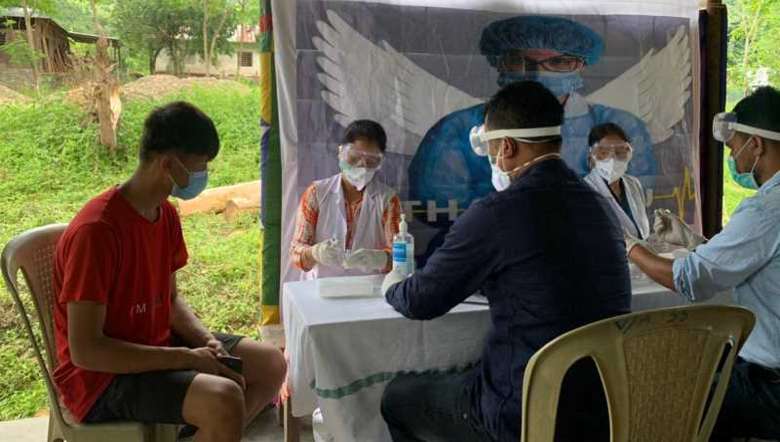 Containment restrictions and curfew imposed in Tamenglong district has been relaxed from 6 am to 12 noon. Mass testing drive for COVID-19 and vaccination will continue and violators of COVID SOPs are to be penalised as per the Law, the district magistrate announced on Sunday.
Containment measure was announced in Tamenglong following the detection of COVID-19 from among the locals without any travelling history.
In an effort to motivate villagers to come forward for Covid vaccination, Deputy commissioner Tamenglong Armstrong Pame announced that a sum of Rs 50,000 will be given to those village or wards with maximum percentage of vaccination (at least 50 per cent of the population) and a sum of Rs 20,000 for bringing maximum number of people for vaccination (minimum 50 persons). The time window is valid till July 15.
"Call us anywhere and anytime for mass covid testing or vaccination and our team will be made ready at our own expense," he informed the people of Tamenglong.
The total COVID1-9 positive cases surged to 1,866 while 1813 positive patients have recovered so far.
Meanwhile, the 44 Assam Rifles under the aegis of 22 Sector Assam rifles IGAR (E) in a unique initiative along with Kangpokpi district health officials for the local populace in Tuilong area of the district, has undertaken the responsibility of establishing a mobile Covid Vaccination Centre in Tuilong area, Kangpokpi district, stated a release.
It stated that the residents of Makui village under Tamei sub-division of Tamenglong are the first beneficiaries of the first of its kind Covid vaccination centre made operational by 44 Assam Rifles in the district along with MO incharge, PHC, T Waichong wherein 69 villagers above 18 years of age were administered vaccine on June 13 under JAN SEVA Abhiyan.
The unit medical staff kick started the campaign to assist the local civil administration to curb the further spread of deadly virus and contribute towards the well-being of humanity, the release stated.
"The civilian immunisation at Assam Rifles mobile Covid Vaccination center, Makui was inaugurated by Assam Rifles Tamenglong battalion chief medical officer (CMO) SS Shah.  Facility for on the spot registration was carried out for the villagers. The vaccine was administered to 69 people from Makui village," it added.
Speaking on the occasion, Assam Rifles CMO SS Shah said, "The determination of medical staff and discipline of citizens have helped to tackle the first wave of COVID-19 last year and certainly together we shall defeat this wave too." He urged to follow strict behavioural measures and stressed upon the slogan Dawai Bhi aur Kadai Bhi.
Along with the vaccination drive, the battalion also organised Covid awareness campaign in the village. Various posters, banners, cut outs and information boards were displayed for the general public.
The unit-run vaccination centre in coordination with Tamenglong district medical staff has already started vaccinating the 18-44 years age civilians since May 26. Till date, the unit medical staff have vaccinated 477 civilians at Tamenglong.
The indigenous COVID-19 vaccine is showing a way for transition out from this phase of the pandemic, he further said, adding even after serious efforts, the vaccination of people in the Tuilong area is still lagging behind the expected pace.
First Published:
June 14, 2021, 4:52 p.m.