Stop encroaching upon Waithou fishery area: Minister Rajen
The Fishery Minister said that encroaching of any form in the area of the Fishery department will be evicted.
---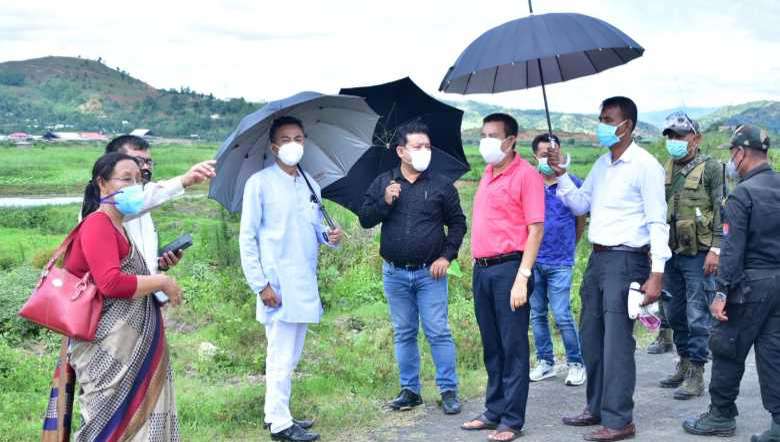 (Photo: DIPR)
---
Manipur Fishery Minister S Rajen Singh categorically warned that any form of illegal encroaching activities by individuals in the Waithou fishery area should be stopped immediately.
He was speaking to the media during a visit at Waithou Lake (Pat) on Sunday. He said that the government has started demarcation of fishery areas and government maintained fish farms in the state. Encroaching of any form in the area of the Fishery department will be evicted, he announced. 
District authorities and departments concerned have also been informed to take up necessary actions in this regard, he added. Rajen said that not only at Waithou lake there have been instances of encroaching in other sites belonging to the Fishery department. Individuals involved in such practices should understand that illegal encroachment is liable to be punished under law, he added.
He maintained that the government has started to work to achieve the objective of producing adequate fish products for the state. It will help to save the financial expenditure on fish products from outside.
As a measure to encourage fish farmers in the state, the government has also decided to introduce Public Private Partnership (PPP) mode, he said. Revenue can also be generated by successfully implementing the PPP model in such an area of around 400 acres of Waithou Lake. This initiative will help those fish farmers who are enthusiastic to take up this activity, he added.
Rajen appealed to all the interested fish farmers to cooperate with the government initiatives to bring a change in the state by making Manipur one of the biggest fish producing states in the country.
The minister was accompanied by commissioner, Fishery M Harekrishna, H Balkrishna Singh, Director, Fishery and IPR, district fishery officer (DFO), Thoubal, Ibetombi Devi, DFO, Churachandpur, Rameshwor Singh and other officials of fishery department. (DIPR)
First Published:
June 14, 2021, 12:22 p.m.