Mother's love for her son suffering from Leukemia wins support from many
Families of other patients in the hospital contributed and helped the poor mother who did not have enough money to buy food and feed her ailing son.
---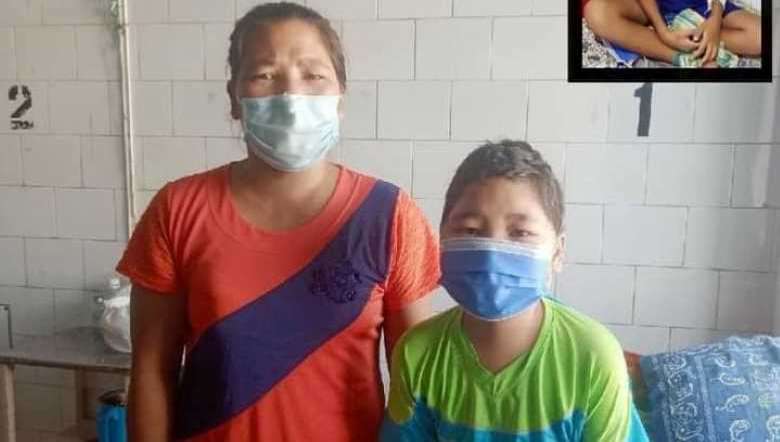 (Photo: IFP)
---
The unending struggle of a 32-year-old poverty stricken mother to save her 11-year-old child suffering from Leukemia won support from many.
A mother of two, Lamneilhing, from Chaljang Part-II in Kholjang area under Champhai Sub Division of Kangpokpi district, was abandoned by her husband and has been taking care of her children by herself.
"I have been toiling hard for their treatment as well as for their education and wellbeing ever since their father left us," she said as she shared her story with the Imphal Free Press.
Lamneilhing said that her son Lamgunsen Kipgen, a student of Class V, has been suffering from Leukemia ALL-B since the past two years.
"My son was admitted to JNIMS Imphal several times after suffering from Leukemia last year. I had to bring him back home in January this year, and could not continue the treatment, owing to financial constraint which ultimately caused a relapse in his condition and worsened as well," she narrated.
Her son was readmitted to the same hospital with some amount of money she borrowed from her neighbours. "But it was not enough even to buy medicine for his treatment," she said, adding, "Sometimes, I could not even feed my ailing son since I did not have enough money to buy food".
Seeing her helpless condition, families of other patients in the hospital contributed and helped her with some food, she said.
"Even doctors and nurses in the hospital provided whatever free medication they could for my son," Lamneilhing said.
The JNIMS Blood Bank had also issued them many units of blood without replacement, considering their condition and without volunteers to donate the young boy the blood required for his treatment.
It was nothing short of a miracle for her when the doctor treating the boy informed the Helping Hands for People (HHP), Manipur Child Helpline about their situation. Thanks to the kind-hearted doctor, the child and his mother were able to stay at ease with the support and help from the HHP Child Helpline now.
According to the HHP Child Helpline Manipur, its volunteers immediately swung into action in helping out the poor patient and mother after the doctor concerned reached out to them and informed them about the situation of the mother and her child.
"We contacted a pharmacy and opened an account to provide Lamgunsen with the medicines needed, and we made weekly payments for the dues in the account," it stated.
It also stated that they also coordinated with SRL Diagnostics to conduct all the necessary tests and the expenses were transferred to HHP Child Helpline's account, while HHP Blood Wing will also be responsible for the provision of all the blood required for the patient's treatment.
The HHP Child Helpline Manipur also sought everyone's support and help for Lamgunsen Kipgen.
First Published:
June 11, 2021, 10:58 p.m.