Boxer Dingko Singh who filled BFI coffer with gold, lost his bout with cancer
The 42-year-old former Indian Navy boxer rose into limelight when he filled the drought hit coffer of the Boxing Federation of India with a gold medal in the 13th Asian Games 1998 at Bangkok.
---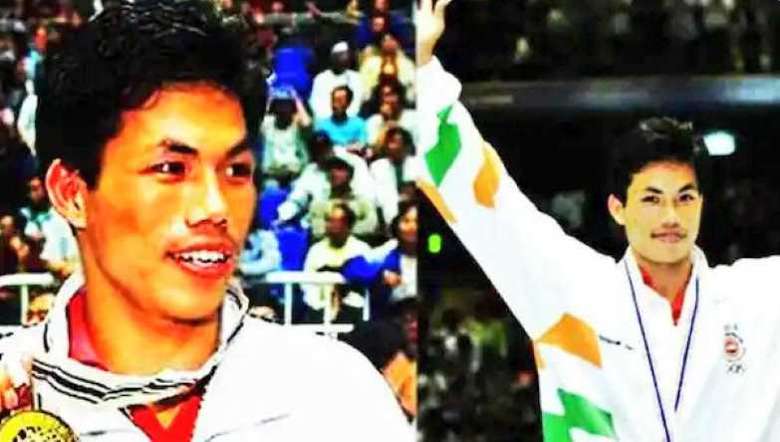 Asian Games gold medalist and bantamweight weight boxer Ngangom Dingko Singh, who filled the Indian boxing coffer with a gold medal after a gap of 16 years, lost his bout with cancer at his native Sekta Village, Imphal East early morning on Thursday.

The 42-year-old former Indian Navy boxer rose into limelight when he filled the drought hit coffer of the Boxing Federation of India with a gold medal in the 13th Asian Games 1998 at Bangkok. The diminutive boxer Dingko Singh was specially praised for his die hard commitment when he felled well known Olympic medallist from Uzbekistan Timur Tuyakov in the final.

Dingko Singh also set his standard high when he beat another Olympic medallist Sontaya Wongprates of Thailand in the bantamweight division of 54 kg, enroute to the gold medal in Asian Games.

For the record, heavyweight boxer Kaur Singh had won a gold medal for boxing for India in Asian Games 1982 at New Delhi.

Born and brought up in a poor peasant family from Sekta Mayai Leikai in Imphal East, Dingko had a passion for sports from an early age. But the family of four members, including Dingko's younger sister, the yearning had to leave desired until he joined as inmates of SAI/SAG Imphal in 1990 to pursue his dream.

Just one year into training, Ng Dingko Singh claimed his first gold medal in Sub-junior Championship 1991 held at Ambala and since then there has been no looking back until his gold medal at the 13th Asian Games. Dingko Singh had four gold medals to his credits and two best boxer titles including Kings Cup, Bangkok in 1997.

For his zeal and fighting spirit, Dingko Singh was bestowed with Arjuna Award in 1998 and conferred the prestigious Padmashree Award in 2013 for his contribution toward boxing. In 2013, he joined SAI/SAG as boxing coach.

Ng Dingko Singh had been battling liver cancer since 2018 and had undergone radiation therapy at ILBS New Delhi. He had contracted COVID-19 in 2020 but had recovered from his ailment. Dingko Singh is survived by his wife Ng Babai Devi, one son and a daughter.

In the meantime, the SAI/STC Imphal, while condoling the sudden demise of Ng Dingko Singh, paid rich floral tributes to the late boxing coach at its Boxing Hall, Khuman Lampak today.

SAI/STC Centre in Charge and Dronacharya Awardee  Leishangthem Ibomcha Singh while remembering the late boxer said, "It is a great loss for the boxing fraternity. Dingko Singh's commitment and the service rendered by him for the betterment of boxing, will be missed and the vacuum created by the loss will be hard to fill."

"Words cannot express how much the inmates, faculty and myself will miss him and hard to overcome the loss as we have created a very closely knitted family atmosphere. We also shared the grief of the family at this crucial hour," Ibomcha Singh said.

Chief Minister N Biren Singh also paid his tribute to Ng Dingko Singh, remembering the late boxer as one of the most outstanding pugilists Manipur has ever produced.
SAI regional director, Francis Marwein in a condolence message stated, "We have lost a gem of Indian boxing in Ng Dingko Singh. An accomplished boxer, the former Indian Navy boxer Dingko was a member of SAI and contributed immensely to invigorate the boxing spirit in India and North East in particular."

His demise has left a vacuum in Indian boxing but his life and legacy will continue to inspire generations of sportsmen in the country, he stated. In his difficult times, the SAI as well as the Ministry of Youth Affairs has left no stone unturned to extend him financial and medical help. The SAI NERC shares the grief of the family members, it added. 
First Published:
June 10, 2021, 9:32 p.m.