Mass COVID-19 testing continues in Jiribam
Of the 37 persons tested on Sunday, no positive case was detected.
---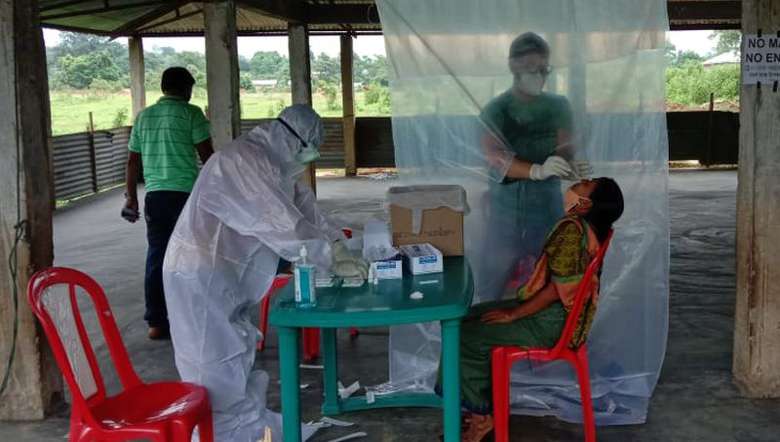 (PHOTO: IFP)
---
As a continuation of the mass testing drive that commenced on Saturday, random mass COVID-19 tests were conducted at Kamranga Muslim Khul, Kadamtala and Borobekra in Jiribam on Sunday.
Keeping in view the surge of COVID-19 positive cases in the district, the mass testing drive was initiated by Jiribam Health Department under the supervision of the district administration.
Pradhan of Dibong GP RK Nobinsana said that mass COVID-19 testing programme for people of Kadamtala Khun was successfully conducted at the community hall of Kadamtala. Of the 37 persons tested on Sunday, no positive case was detected, he said. He also lauded the populace of Kadamtala Khun for coming forward for the tests with the intention of defeating the COVID-19 pandemic.
Mentioning that COVID-19 tests have been conducted for both Ward No V and VI of Hilghat GP area, president, Kamranga Muslim Youth Club Md Abdul Rajak conveyed his gratitude to the District administration while also urging for further testing programme for the remaining populace.
President, Borobekra Youth Development Organisation Keisham Ronel Singh said that mass testing was conducted at Rajiv Bhavan. The programme was successfully conducted with members of the local Covid Task Force and the youth organisation providing assistance to the team from the Medical department, he added. 
First Published:
June 7, 2021, 1:06 a.m.