Covid task force provides water handpump for volunteers engaged in burial of COVID-19 victims in Kangpokpi
As a part of the preventive measures, the Covid task force has taken up several steps, including a sanitization drive in Kangpokpi town as active cases in the district rose to 85 on Sunday
---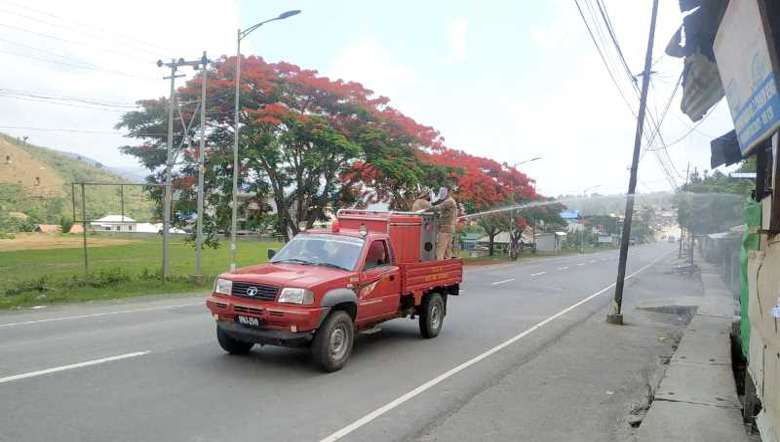 Covid Task Force santitises Kangpokpi town on May 30, 2021 (PHOTO: Kaybie Chongloi_IFP)
---
Amid the surge in COVID-19 positive cases, the COVID Task Force Kangpokpia carried out a sanitisation drive at Kangpokpi district headquarters on Sunday. The drive was carried out in collaboration with the fire substation of Kangpokpi as a part of the preventive measures. The task force also brought a water hand pump to be used by Kangpokpi Youth Union volunteers who are engaged in burying of deceased Covid patients.
The material was handed over to KYU vice president by Covid task force Kangpokpi leaders this Sunday afternoon at KYU office.
The COVID-19 task force Kangpokpi also embarked on sealing of containment areas at Kangpokpi Ward No XI where one positive case was detected today and assisted the health workers in evacuating the patient from her residence to Covid care centre Leikop.
The task force also inspected all the localities of Kangpokpi district headquarters and detained those violating Covid guidelines by opening shops in the locality.
The task force disseminated awareness on Covid appropriate behaviours to the defaulters at KYU office, and they were later released after strict warning that they should no more open their shops till lockdown has been officially lifted.
Meanwhile, with 16 new positive cases detected in the past 24 hours in Kangpokpi district, the active cases in the district stood at 85 on Sunday.
Mass testing of shopkeepers was also conducted by the medical team of Saikul CHC on Sunday at Saikul Hill town. Of the 148 individuals tested, none was found to be positive. Some construction workers will be tested on Monday.
Read More
First Published:
May 31, 2021, 10:08 a.m.