Condolences pour in for former Manipur MLA W Brajabidhu Singh
W Brajabidhu Singh died due to COVID-19 complications on Sunday.
---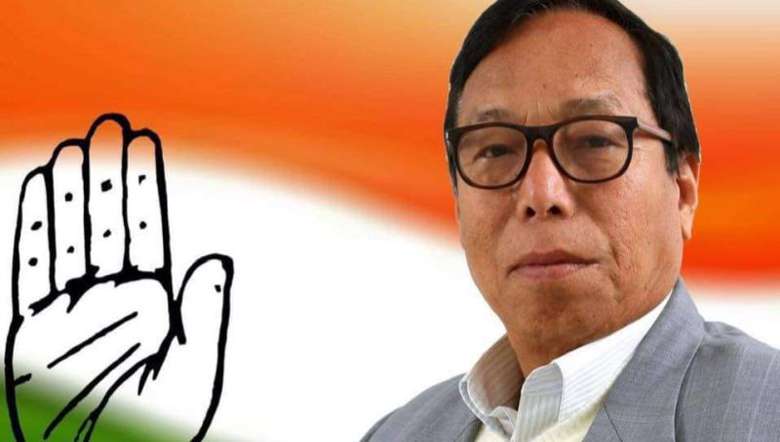 (PHOTO: Facebook)
---
Condolences poured in for Congress leader and former MLA W Brajabidhu Singh who passed away on Sunday due to COVID-19 complications.
Extending its condolence, the Manipur Pradesh Congress Committee (MPCC) stated that it is engulfed in deep sorrow and sadness at the sudden demise of the former MLA. 
Singh began his political career as a grassroot Congress worker in the year 1970, MPCC stated in an obituary message signed by MPCC president Govindas Konthoujam. He represented Lamshang assembly constituency as Congress MLA in the years 2002, 2007 and 2012, MPCC stated. During this period, he served as a minister in-charge of Minor Irrigation and CADA from 2002 to 2005.
Late W Brajabidhu Singh was a committed social worker, a true friend of the poor, an entrepreneur and a political stalwart who worked tirelessly for the people, MPCC stated. He had a firm belief that development could take place only when the people fully participate from the grassroots in the programmes designed for their benefits, it added.
MPCC further stated that his untimely demise is an irreparable loss not only for the Congress Party but also for the whole state of Manipur. In recognition of his sacrifice and dedication, the party flag remains half-mast as a symbol of respect to the departed Congress leader, it stated. "At this hour of grief and sorrow, Congress Party solemnly shares the pain of the bereaved family. May his soul rest in peace," it added.
The 'Manipur Ex. MLA Welfare Association' also expressed condolences over the untimely demise of former MLA of Lamshang assembly constituency W Brajabidhu Singh on Sunday at Shija Hospital due to Covid, in a release signed by its president BD Behring.   
"I on behalf of the Association convey heartfelt condolences and pray that may his soul rest in peace," it stated. He is 7th Covid victim among the former MLAs, it further stated, adding a condolence meeting and extending of association grant would be performed when normalcy returns at Manipur Legislative Assembly Ex. MLAs room, Chingmeirong. 
Speaker of Manipur Legislative Assembly, Yumnam Khemchand Singh also extended condolences on the demise of former MLA, W Brajabidhu Singh.
Khemchand in a release stated that he was deeply shocked to hear the news of the demise of W Brajabidhu Singh. He was a social worker and had worked for upliftment of the poor before he forayed into politics. He was a kind and gentle-hearted person, he added.
"I express my deepest condolences to his near and dear ones and also share the grief of his family members. May his soul rest in peace," Khemchand stated. 
Employment Minister Th Satyabrata Singh has also expressed condolences over the untimely demise of former minister and former MLA from Lamsang assembly constituency Wangkheimayum Brajabidhu Singh.  
"He possessed the qualities of an ideal politician," minister Th Satyabrata said in his condolence message. He was born in March, 1949 in Lamdeng Mayai Leikai, Imphal West. He was an efficient politician and social-worker by passion, it stated.  
"He joined politics as early as the beginning of 1970s. Brajabidhu was first elected to the Manipur Legislative Assembly in 2002 and became the minister of state for Minor Irrigation and CADA. He was re-elected again in 2007 and 2012. With a rich educational background, he completed his B.Sc under Guwahati University," it further stated.
He was also the chief functionary of Rural Development Organisation (RDO), Lamdeng from 1975 to 2002 and attended numerous international conferences in more than 10 countries, it stated. 
"Let us remember W Brajabidhu Singh for his dedication to public service, humanitarian work and social welfare activities. His contribution for uplifting the poor and deprived people of Lamsang kendra are beyond words. He was a leader and political figure for our society in true spirit. The state will always remember him. May his soul rest in peace," it added. 
First Published:
May 30, 2021, 8:41 p.m.