Saitu AC MLA Ngamthang Haokip launches COVID-19 vaccination drive
COVID-19 vaccinations in Saitu Gamphazol block will commence from May 31 at the Health and Wellness Centres (HWC) and PHSC level
---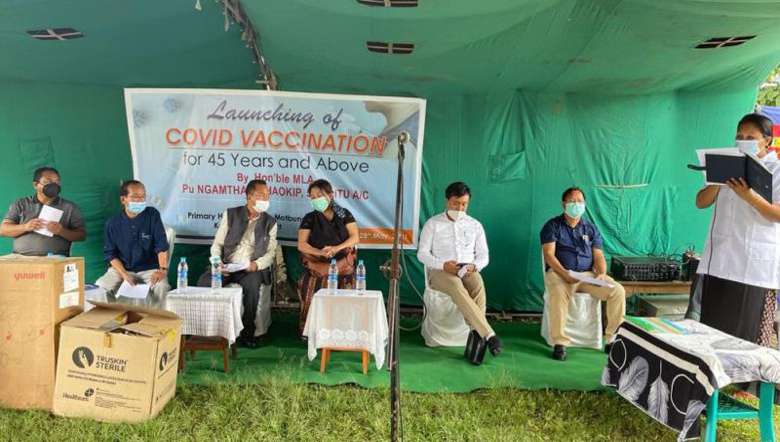 (PHOTO: IFP)
---
A COVID-19 vaccination drive for people of Saitu assembly constituency who are above 45 years of age was launched by local MLA Ngamthang Haokip at PHC-Motbung on Friday.
Earlier, COVID vaccination programme for Saitu assembly constituency was held either at PHC-Motbung or PHC-Gamphazol, but with the initiative of the local MLA, COVID-19 vaccination will also be conducted at all Health and Wellness Centres and PHSCs in Saitu assembly constituency.
The launch programme was attended by Ngamthang Haokip as chief guest while CMO Kangpokpi, Dr J Touthang and ZEO Kangpokpi, Lhingneikim shared the dais as Functional President and Guest of Honour respectively.
Speaking at the event which was conducted following SOPs, the local MLA stated that considering the hardships that people from far flung areas will have to face, he had taken the initiative for the vaccination programme to be held in all health and wellness centres, and PHSCs in the constituency. This will make it easier for people to avail the benefit of vaccinations without any grievances especially in regard to transport, he said.
There are certain rumours and unauthentic information about the vaccines but people should not be carried away by such baseless rumours that have no authenticity, the MLA continued while also making a public appeal for the people of Saitu assembly constituency to come forward for the vaccinations without any hesitation and doubt. He further urged the people to join hands and put heads together to combat the COVID-19 pandemic and make Saitu the first Corona free assembly constituency in the state.
Ngamthang Haokip also handed over various logistics, including 200 oximeters, three D-type and B-type oxygen cylinders, two oxygen concentrators, PPE kits, face masks, hand sanitisers, gloves and medicines amongst others to the health care centres in Saitu assembly constituency.
It may be mentioned here that according to the routine prepared by the medical team, vaccinations will commence from May 31 in Saitu Gamphazol block at the Health and Wellness Centres (HWC) and PHSC level. Vaccinations will be conducted at WC Leimakhong every Monday, PHSC Kotlen every Tuesday, PHSC Wainem every Thursday and HWC Kangchup every Saturday.
First Published:
May 29, 2021, 12:42 a.m.