Mass COVID-19 testing in the state soon: Manipur CM Biren
CM Biren said house-to-house testing is being actively considered in vulnerable areas and containment zones.
---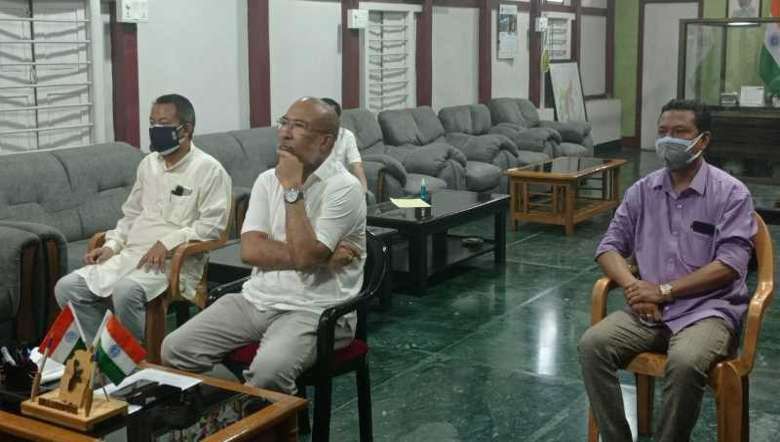 (Photo: DIPR)
---
Manipur Chief Minister N Biren Singh on Thursday announced that a mass testing for COVID-19 in all parts of the state will begin soon. He made the announcement while interacting with patients under home isolation through a video conferencing at the Chief Minister's Secretariat, Imphal.
As early detection and early medication is the key to flatten the Covid curve, 50,000 RAT kits had been recently distributed to different districts and another 1 lakh kits had been ordered for procurement, he said.
Biren further said that house-to-house testing is being actively considered in vulnerable areas and containment zones. He said that around 100 more ICU beds would be added to the current figure within a week. He also said that since most of the health infrastructures used in the current fight against Covid are newly developed, the government's efforts may not be satisfactory sometimes.
However, all possible efforts are being invested by the government to save every single life and serve the people to their satisfaction, he said, adding that people also need to extend full cooperation to the government's efforts and be more aware about the disease.
Responding promptly to a complaint raised by a patient lodged in a Community Home Isolation Centre located in Ukhrul, pulse oximeter was immediately provided by directly talking to the CMO concerned over the phone. Attending to another call from a patient from Tamenglong, N Biren Singh assured him to ask the officials concerned to ensure regular power supply in the district.
All the participants of the virtual meeting expressed their profound thanks to the chief minister for attending to their grievances. They also expressed satisfaction at the government's efforts. 
TA and Hills Minister Vungzagin Valte, CAF and PD minister Th Satyabrata, MP Maharaja Sanajaoba Leishemba, advisor to CM (Health) Dr S Ranjan, MLAs Ginsuanhau, Ngamthang Haokip and L Sushindro were also present at the video conference. (DIPR)
First Published:
May 27, 2021, 10:34 p.m.