Sikh community reaches out to poor COVID-19 patients with 'free oxygen langar' in Manipur
The Sikh Society of Manipur under the aegis of the Gurudwara Prabandhak Committee, Imphal in association with the Khalsa Aid International has launched an initiative to help needy patients with supply of oxygen concentrators.
---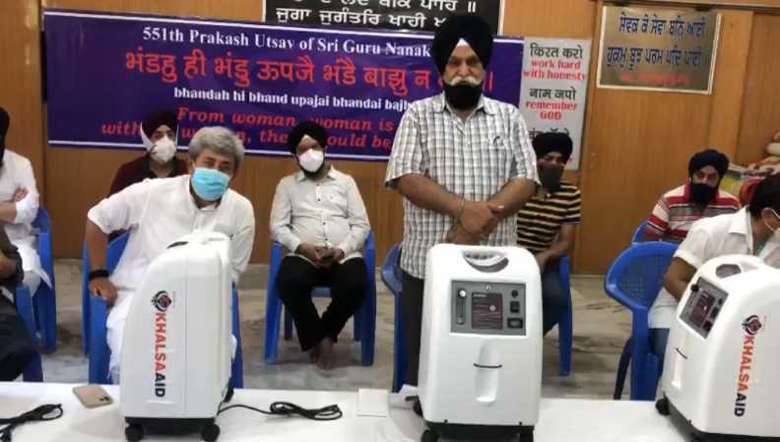 (Photo: IFP)
---
In view of the severe shortage of medical use oxygen supply in hospitals of the state that are crowded with COVID-19 positive patients in critical condition, the Sikh Socity Manipur has opened a "free oxygen Langar" in an effort to help poor patients.
While the state government is gearing up for installation of a plant of 10KL Liquid Medical Oxygen Cryogenic tank at JNIMS, the Sikh Society of Manipur under the aegis of the Gurudwara Prabandhak Committee, Imphal, Manipur in association with Khalsa Aid International, has launched the 'oxygen Langar'. The Oxygen Langar promises to supply oxygen to people who are economically challenged.
Amid the lockdown imposed to flatten the COVID-19 curve amid the second wave of the pandemic in the state, messages from positive patients for oxygen cylinders and concentrators flood social media platforms. There are also several reports of COVID-19 patients in critical condition being turned away or discharged from private hospitals owing to short medical use oxygen supply.
Also Read: Limited oxygen cylinders supply hampers expansion of COVID-19 ICU of RIMS
Responding to the acute shortage of medical use oxygen in states, including Manipur, the Khalsa Aid International has started providing free oxygen concentrators to states.
"There are no major issues of oxygen in the state hospital; many patients who are in home isolation need oxygen concentrator, which reportedly is facing shortage. Therefore, the Sikh Society of Manipur has decided to procure concentrators from the Khalsa Aid International, which has sent 50 oxygen concentrators for Manipur," said a volunteer of Sikh Society of Manipur, S Bajinder Singh.
Bajinder Singh through a telephonic conversation with this Imphal Free Press reporter said that the 'free oxygen langar' programme was launched on Saturday, May 22. In total, 50 oxygen concentrators have received for Manipur. Of the 50 oxygen concentrators, 30 have been handed over to Primal Care Health Services, Lairikyengbam Makha Leikai, Imphal East, he said.
The Sikh Society vounteer said, "Many COVID-19 positive patients who are economically challenged are in home isolation.  They may need oxygen, but due to financial constraint, the patients may not get oxygen. The free oxygen langar is for them, for the needy people who are in isolation at home".
While providing Oxygen Concentrators, the volunteers of Sikh Society of Manipur demonstrated how to use concentrators, he added.
Also Read: Avoid donating oxygen cylinders, concentrators to COVID patients privately: Government
According to a pamphlet released from Gurudwara Sri Guru Singh Sabha, the terms and condition for using oxygen concentrators are given as per the doctor's prescription. "A copy of Aadhar card is mandatory; you will be fully responsible for the safe handling of equipment; a nominal security in the form of cheque for Rs 11,000 is required. This will be refunded/returnable after the safe return of equipment; the oxygen concentrator will be given for maximum of five days. After that, a minimum charged of Rs 1,000 will be charged; machine will be accepted back after due sanitisation and checking of its proper working; don't keep it even for a single day extra as there are needy people whose lives are at stake; this is purely humanitarian service, as taught to us by our Gurus, so help us serve more people by handling the equipment properly and returning it promptly".
For availing the services of Guru Ka Oxygen Langar, they provided contact numbers: 9436036395; 9774244825; 8974025119; 9615344412; 7005590091.
During the telephonic conversation with Primal Care Health Services, partner Preety Thokchom said that they received 30 oxygen concentrators and 30 voltage stabilizers from the office of the Gurudwara Prabandhak Committee, Imphal under the aegis of Khalsa Aid Trust. It will install at the health services premises and supply to needy people who are economically challenged.
The Primal Care Health Services will supply oxygen concentrators free of cost and they are gearing up the standard operating procedure to be followed as guidelines in using the machines, she added.
Also Read: Why is the government silent on UNDP-Japan proposal to help combat Covid-19 in Manipur?
At present, Manipur has two oxygen plants at JNIMS and RIMS, catering to COVID-19 wards and units. 
However, due to the shortage of oxygen supply and the increasing number of COVID-19 patients being brought to the hospital, routine work by all departments of RIMS has been cancelled effective from May 1 until further notice, stated the RIMS medical superintendent in a notification issued recently.
In order to have adequate oxygen supply, state Chief Minister N Biren has taken an initiative of setting up two more oxygen generating plants at Thoubal and Churachandpur districts.
Following the increase in demand for oxygen, Manipur today is facing severe shortage of oxygen supply, though the HV oxygen plants at Patsoi produces 220D Type cylinders per day and the Manipur Gas Private Limited Bishnupur produces 50 per cent of the total needs of the state. RIMS and JNIMS and Shija Hospitals are also producing medical use oxygen. However, the oxygen produced is not enough to meet the requirement.
In an attempt to meet medical use oxygen demand of patients in the state, the state government has taken the initiative of installing 10,000 litre Liquid Medical Oxygen Cryogenic storage tank at JNIMS, on Saturday.
According to Chief Minister N Biren Singh;s  official Facebook page, the installation of 10KL is underway and the LMO 10KL tank, which was dispatch from Gujarat, has a storage capacity of about 1,300D-type oxygen cylinders. The plant will be operationalised in the next few days.
As the number of daily new positive cases continues to surge in the state, the state government has taken up various steps to meet oxygen demands by procuring oxygen cylinders from outside the states.
Also Read: MCS association donates oxygen cylinders to CM's COVID-19 relief fund
On Saturday (May 22), the Manipur Civil Service (MCS) Association along with some IAS/SCS officers of 2007 batch donated 50 D-Type Oxygen Cylinders to the Chief Minister's COVID-19 Relief Fund. The association donated the cylinders costing a total amount of Rs 10,00,000, considering the immediate requirement of oxygen cylinders for use in the treatment of Covid patients in various hospitals and Covid Care Centres in the state.
Also Read: Manipur Cricket Association donates 40-D type oxygen cylinders to state government
The Manipur Cricket Association (MNCA) also donated 40-D type oxygen cylinders, amounting to Rs 8 lakh to the state government through the director of health Manipur, on May 21.
The critical situation calls for people's participation to help ease the plight of the suffering people. Support from non-governmental organisations and the various communities may help in meeting the medical requirement, including oxygen.
First Published:
May 23, 2021, 5:51 p.m.