COVID-19 Task Force set up to combat pandemic in Heirok
Heirok MLA Th Radheshyam will lead the COVID-19 Task Force set up in the constituency as its chairman.
---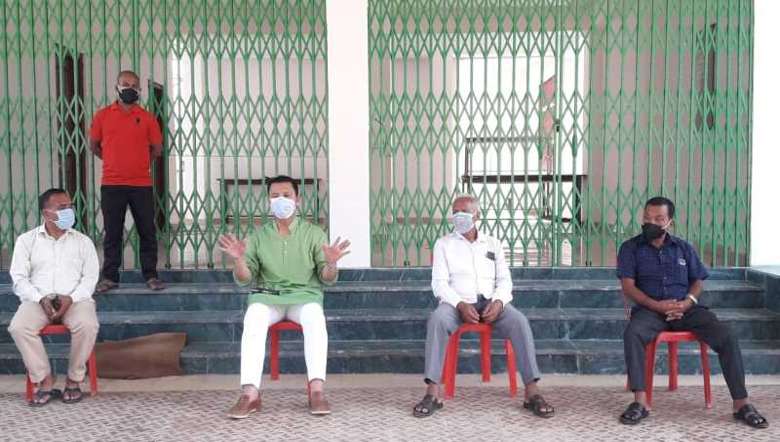 (Photo: IFP)
---
With the objective of combating the second wave of the COVID-19 pandemic, a Task Force Management Committee for Heirok assembly constituency was formed on Saturday with local MLA Th Radheshyam as its chairman.
Besides the task force which was formed at the assembly constituency level, several other COVID-19 task force management committees at village and ward levels were also formed in Heirok.  It is believed the new task forces will be instrumental in providing more momentum to the initiatives taken by the people of Heirok in the battle against the virus.
A meeting of the newly formed COVID-19 Task Force was also held today at Khangarok Chingol. Along with Th Radheshyam who attended the meeting as president, representatives of various local bodies from Heirok and office bearers of Innai club were also present at the meeting that was conducted following SOP.
During the meeting, the participants thoroughly deliberated on the present situation in areas under Heirok which had been hit hard by the pandemic along with steps that the task force can take up to combat the virus. The participants also conveyed their appreciation for the actions taken up by the state government to defeat the pandemic.
Th Radheshyam further made a public appeal for people to strictly adhere to the COVID-19 guidelines issued by the state government and jointly defeat the pandemic. He further sought cooperation from the masses in the actions taken up by the task force. The surge of COVID-19 infections at Thokchom and Bengi villages in Heirok has significantly decreased in the past two- three days. "I have a firm belief that the pandemic could be surely brought under control," he said, urging the public not to panic.
It may be mentioned here that Th Radheshyam, on Friday declared that a sum of Rs 50,000 will be presented as aid from his side to any household which experiences COVID-19 fatality in Heirok.
First Published:
May 23, 2021, 2:09 p.m.