AR promotes Covid appropriate behaviour in Tengnoupal
Assam Rifles personnel distributed hand sanitisers, face masks and rations to villagers in Tengnoupal.
---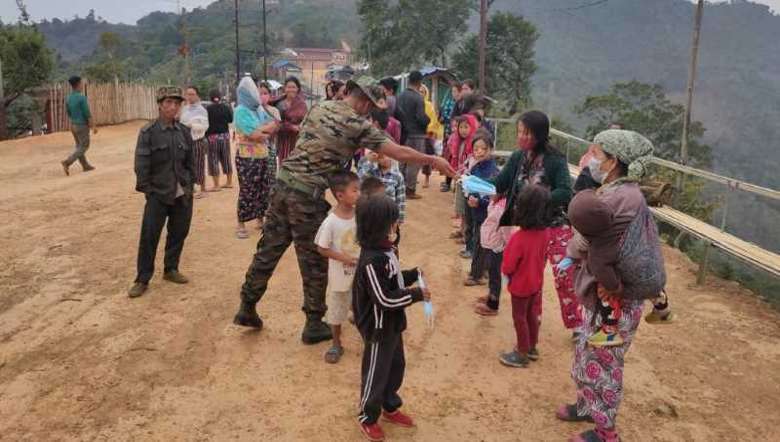 (Photo: IFP)
---
Tengnoupal Battalion along with 165 TA organised an event to promote COVID-19 appropriate behaviour at Sita Village, Tengnoupal on Friday, stated a release issued by IGAR (South).
It stated that the event was organised in the wake of the rising number of COVID-19 cases all across the country. During the event, the significance of social distancing, proper sanitisation, maintaining hygiene, and prompt actions to be taken during emergencies were explained to the villagers, it added.
The event culminated with distribution of hand sanitisers, face masks and rations to the villagers. The village chief conveyed his appreciation for the efforts made by Assam Rifles and also requested such assistance in the future, it stated.
Meanwhile, Tengnoupal Battalion AR foiled two smuggling attempts near Tengnoupal on Friday, it mentioned.
Troops from the battalion, acting on credible inputs from reliable sources, launched a search operation in the area of Saivom and Laipham junction in the early morning hours. After carrying out thorough search of the areas, betel nuts, organic sarpagandha (Rauvolfia serpentina or Indian snakeroot) and timber worth Rs 62.17 lakh were seized, it stated.
The recovered items have been handed over to Forest and Police departments for further investigations, it added.
First Published:
May 23, 2021, 1:57 p.m.