Manipur CM N Biren Singh opens COVID-19 grievance cell
CM Biren said that the Grievance Cell is being opened especially for COVID-19 patients undergoing home isolation.
---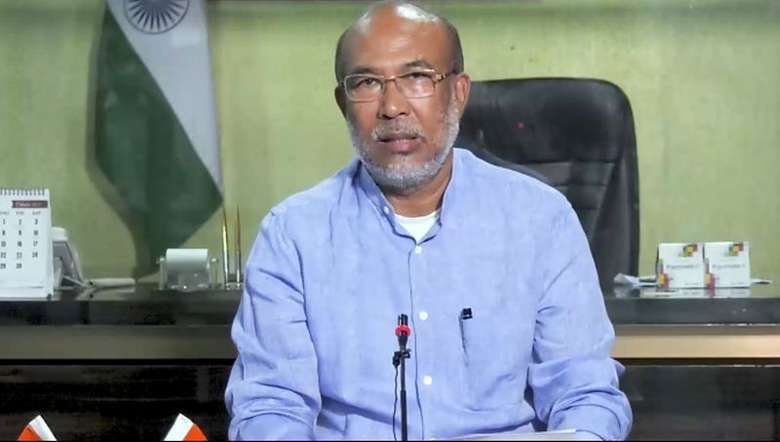 Manipur Chief Minister N Biren Singh on Thursday opened 'CM's COVID-19 Grievance Cell' at the Chief Minister's Secretariat, Imphal. The Grievance Cell, which is to be operative immediately, can be reached at 18003453848 (Toll Free) and 0385-2440079.
On the occasion, CM Biren said that the Grievance Cell is being opened especially for COVID-19 patients undergoing home isolation and added patients could lodge their grievances to the cell if no satisfactory follow-up action was taken up by any responsible authority after they speak to the State COVID-19 Control Room.
The state government had earlier set up a state COVID-19 Control Room for certain requirements of home isolation patients, including doctor consultation, medicines and pulse oximeters among others. The Grievance Cell would also be manned by doctors, the chief minister said.
CM Biren urged that doctors and nurses should visit every home isolation patient within their jurisdiction to give necessary medicine and pulse oximeters. Mentioning that home isolation without proper facilities for the same had been a major cause for rapid spread of the virus, CM Biren said, adding that home patients under isolation would be brought to Covid Care Centre if they do not have proper isolation facilities in their residences.
Expressing the need to closely monitor home isolation cases in Imphal West and Imphal East, the government had also constituted different teams headed by doctors to ensure prompt delivery of medicine, regular monitoring of home isolation cases and regular home visits among others.
He also announced that the state government had started a scheme to take care of the children who had lost their parents in the pandemic. The government would provide education, food, accommodation and other necessities to the children till they attain the age of 18 years, he added. He appealed to the public to contact through the childline (Toll Free No. 1098) if anybody comes across any such child.
Regarding drug users who are highly vulnerable to both COVID-19 as well as the adverse impact of stringent measures like curfews, he said that the government would arrange 'Detoxification cum Treatment' Camps. He further said that COVID-19 test would be conducted for these drug users at the Directorate of Social Welfare on May 24 from 10:30 onwards. Only those persons with negative test results would be taken to the treatment camp while those with positive results would be referred to COVID Care Centre, he added.
The chief minister also informed the government on Thursday transferred a sum of Rs 13,20,33,000  to 1,28,508  beneficiaries of the state, including Old Aged Pension Scheme, Widow Pension, Disability Pension and Family Benefit Scheme. Pension money was transferred directly to the beneficiaries' bank accounts through Direct Benefit Transfer using the Public Financial Management System, he added.
Regarding the black fungus cases arising in other states, he stated that the Health department had been instructed to remain alert. He urged the people to undergo COVID-19 tests as soon as any symptom appears and added that the state has sufficient stock of RAT testing kits. He also appealed to the public to cooperate with the government in fighting the pandemic as coordinated efforts from both the government and public could only fight the pandemic successfully.
First Published:
May 21, 2021, 1:26 a.m.