CM Biren holds meet with CVOs, assures new policy to control COVID-19 in Manipur
Manipur Chief Minister N Biren Singh held a virtual meeting with CVOs of hill and valley districts which was broadcast live through a Facebook page named 'Anouba Manipur'.
---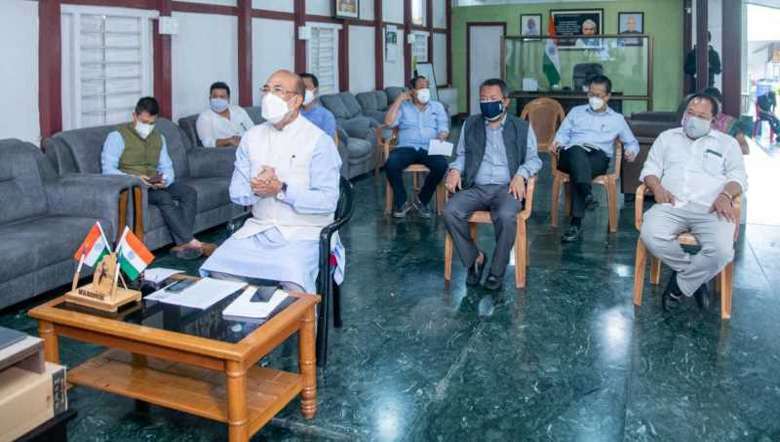 Manipur Chief Minister N Biren Singh (Photo: Twitter)
---
In view of the current situation of COVID-19 second wave in Manipur, Chief Minister N Biren Singh conducted a virtual meeting with civil voluntary organisations of both hill and valley districts and assured to bring a new policy to address loopholes and shortcomings in COVID-19 treatment facilities across the state.
The meeting was held at his secretariat on Wednesday in the presence of some ministers, MLAs, officials and representatives of various organizations. Various views, opinions and suggestions were shared among the participants in order to fight the pandemic effectively.
The meeting was broadcast live through a Facebook page named 'Anouba Manipur' where Biren expressed his gratitude to all the participants for giving insightful suggestions and noted all the points highlighted. He assured to bring a new policy by including most of the suggestions and views that were put forward in the virtual meeting.
In his Facebook page, Biren said, "Had a virtual meeting with the CSOs from both hills and valleys to discuss how the government can work in tandem with the CSOs to fight the COVID-19 pandemic. We deliberated on how the CSOs can take up various responsibilities to ensure the patient gets the treatment timely and also to control the spread of the virus."
"I thank the CSOs for their inputs and the support they have shown at a difficult time like this is absolutely commendable," he added.
In the virtual meeting, All Manipur United Clubs' Organisation (AMUCO) president Ph Nando Luwang urged the state government to point out areas where CVOs can take responsibility in fighting the pandemic and issued an official notification of it.
"Collective effort from every walk of life is required to end this dreaded virus. We wish that CVOs can work effectively if the state government gives us some responsibility. However, the government should let us know the areas where we can directly focus," he stated.
While suggesting reviewing the norms of home isolation which the state is following, he said that many families who are under home isolation do not follow the guidelines properly. This could be one of the reasons that led to the vast spread of coronavirus. As such, the government needs to review the home isolation norms, he added.
Nando also appealed to the authority concerned to spread awareness about COVID-19 in a simplified to prevent panic among the public.
First Published:
May 19, 2021, 10:54 p.m.