Surgical gloves provided for Churachandpur, Pherzawl districts
TA and Hills minister Vungzagin Valte on Wednesday provided more than 3,000 pairs of surgical gloves for Churachandpur and Pherzawl districts
---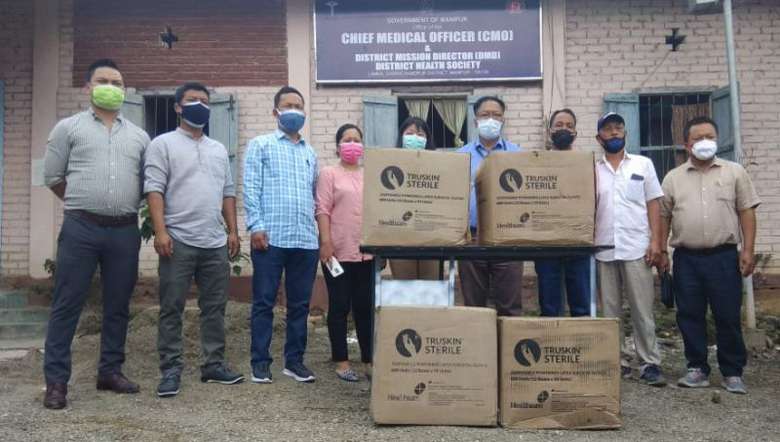 (PHOTO: IFP)
---
TA and Hills minister Vungzagin Valte on Wednesday provided more than 3,000 pairs of surgical gloves for Churachandpur and Pherzawl districts. The gloves were handed out to the respective chief medical officers of the two districts.
PRO of the minister Chinkhanmang Ngaihte said that considering the shortcomings of surgical gloves, the minister had dispatched them through his son Gousuan Valte. They presented 2,400 pairs of gloves to the chief medical officer of Churachandpur Dr Vumchinpau Tonsing. Chinkhanmang Ngaihte categorically said that the gloves were presented on population wise and need basis.
Thanking the minister at an informal function held at his office lawn, chief medical officer Dr Vumchinpau said that they were hard pressed by the shortage which was compounded by non availability of the requirements at the market. He also expressed gratitude for the ambulance that was gifted yesterday for the district hospital by the chief minister. He acknowledged that the ambulance was provided from efforts of the minister and MLAs of Churachandpur and Singhat.
In regards to the oxygen plant, the chief medical officer also thanked the minister and his colleague who had personally inspected the building whose construction was finished. In the meantime, deputy medical superintendent of Churachandpur and his team were at Imphal airport today to receive the machine which will come from Delhi. He expressed his hope that assembling the oxygen plant will begin from Thursday. 
Surgical gloves for Pherzawl district were also delivered to the chief medical officer concerned. The district on Tuesday witnessed the first case of COVID-19 patient at Damdiai village which has been sealed by an order from the deputy commissioner of Pherzawl.
Meanwhile, while the police and medical workers work round the clock in Churachandpur district, a source from IDSP Churachandpur reported the death of one Covid patient at the dedicated ward of the district hospital, bringing the number of deaths to 62 in the last 24 hours. A total of 27 new positive cases and 331 active cases respectively were also reported. 
First Published:
May 19, 2021, 7:34 p.m.