Several local groups help COVID-19 patients with essential items in Manipur
Around 130 families of Lamlai who are in home isolation, among others, benefited from the donation.
---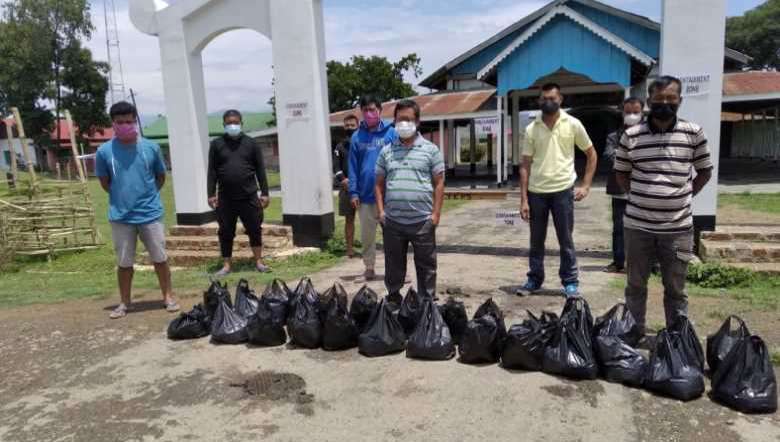 (Photo: IFP)
---
Several local groups in Manipur are reaching out with essential items, including food products, medicines and oxygen cylinders, to those affected by COVID-19 to help combat the disease. 
The Lamlai Mapari Thougal Lup (LMTL) in collaboration with social worker Sapam Kangleipal and support from local clubs on Friday distributed essential food products to around 130 families of Lamlai assembly constituency who are in home isolation.
Free Covid testing was also conducted for the locality of Seijang Khul by the State Contact Tracing team. The team along with the volunteers used PPE kits which were donated by Kangleipal, stated a release issued by general secretary of LMTL, L Bobisana.
Drugs and vitamins prescribed by doctors were also distributed to those in home isolation by Kangleipal from time to time and necessary steps have been taken up by volunteers of LMTL to contain the spread of COVID-19, it stated. 
Mentioning that two individuals from Lamlai areas succumbed to Covid, it stated that LMTL shares the grievances of the bereaved families. LMTL is all set to extend support to all those who are in need and to combat the pandemic at its best level, it added. 
Meanwhile, in Churanchandpur, the Young Paite Association (YPA) led by its president T Khailianthang provided seven B-Type oxygen cylinders to the district administration Churachandpur on Friday.
The oxygen cylinders were received by additional DC S Khaikhopau Ngaihte in the presence of the medical superintendent of district hospital apart from other officials.
YPA president said that they have and will always be a part in the fight against COVID-19. He mentioned that the oxygen is not only from them but also from their constituent units and individuals.
He also thanked the District administration for the efforts made so far against the pandemic.
Another civil group, Kuki Khanglai Lawmpi (KKL) had earlier donated five oxygen cylinders on Thursday.
First Published:
May 15, 2021, 9:54 a.m.