Condolences pour in over demise of BJP Manipur president S Tikendra Singh
S Tikendra Singh passed away on Thursday at the Shija Hospitals in Imphal after battling with COVID-19.
---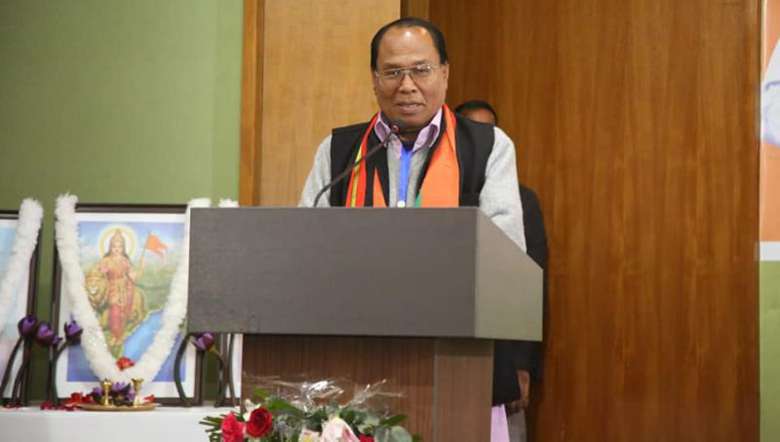 S Tikendra (PHOTO: Facebook)
---
Following the sudden demise of BJP Manipur unit president professor S Tikendra Singh after battling with COVID-19 on Thursday, several political parties and individuals have expressed their condolences on Friday.
Manipur Legislative Assembly Speaker Yumnam Khemchand stated it was shocking to hear that professor S Tikendra Singh who was undergoing treatment for COVID-19 at a hospital in Imphal had passed away on Thursday evening.

His demise will create a vacuum in the BJP Manipur, he stated. "I express my deepest condolences to the bereaved family members. May his soul rest in peace," his condolence message stated.

National People's Party (NPP) state unit N Kayisii also condoled the demise of S Tikendra Singh in his message which stated, "I was deeply saddened to learn about the sudden demise of professor Tikendra Singh who was a retired professor of Maharaja Bodhachandra College, Manipur.

Professor S Tikendra Singh had a significant record of serving the people of the state, it stated. He was a stalwart leader who earned much love and admiration from people for his kindness, dedication and honesty.

"On behalf of the National People's Party, Manipur and myself, I convey our deepest condolences to members of the bereaved family and pray to God Almighty, that he will grant peace to the departed soul," Kayisii added.
With a rich educational background in Philosophy from the prestigious Banaras Hindu University and teaching at Maharaja Bodhachandra College, professor S Tikendra stepped into politics in 1994 to join the Bharatiya Janata Party (BJP), stated Employment minister Th Satyabrata Singh stated while expressing his condolences.
He was also associated with the Jay Prakash Narayan Movement during his university days at a very tender age, it stated.
As chief spokesperson of the party's Manipur unit, he had represented the party at different avenues, debates and discussion forums with sheer competency, wisdom, balanced mindset, clarity and indomitable courage, he stated. "We highly appreciate his remarkable role as the chairman of the BJP's state disciplinary action committee recently. Professor Tiken, one of the pioneers of the BJP in Manipur, was a great political figure we can look up to for motivation and inspiration. He had set before us a perfect example of a man with diverse talents, knowledge, high idealism, vitality and diplomacy," he added.   
BJP Heirok Mandal also organised a condolence meet at the residence of MLA Heirok assembly constituency Dr Thokchom Radheshyam.
Leaders of BJP Heirok Mandal offered floral tributes to late S Tikendra Singh followed by observance of a two-minute silence to honour the departed soul. The BJP flag at the compound of MLA Radheshyam was half-hoisted as a part of the event.
It was attended by president BJP Heirok Mandal Th Chourjit, state secretary BJP Manipur pradesh Kh Basanta, general secretary BJP Kishan morcha Manipur pradesh L Meghachandra and others.
MLA Radheshyam recalled the noble characteristics and deeds of late S Tikendra, saying that he was the leader of all.  He firmly believed in the Gandhian ideal of 'Simple living, high thinking,' Radheshyam said. He lived a simple life and is a rare leader of this state, whose absence is a huge loss, not only for the BJP Manipur state unit but for the whole state, he added.
Meanwhile, leaders of Left Front Coordination Committee – CPI, CPI (M), RSP and Forward Block Manipur also organised a condolence meet by observing COVID-19 SOPs on Friday.  
During the event, the leaders recalled the role taken by S Tikendra Singh for the protection of Manipur's integrity, particularly the occasion when Tikendra called a meeting of all the political parties of Manipur against the delimitation issue in the state, stated a release issued by convenor, Left Front Coordination Committee Kshetrimayum Santa.  The meeting also observed a two-minute silence to express their condolences. The meeting also shared the grief of the bereaved family and BJP Manipur, it stated.  
Naga People's Front (NPF) Manipur president, Environment minister Awangbow Newmai stated that professor S Tikendra was a well known academician in the state.
"After his retirement, S Tikendra joined BJP and remained a faithful party worker and finally became head of the party in the state. As head of BJP, Manipur, the party which leads the coalition government in the state today, I find him to be a person who is not only a devoted party leader but one who understands and respects other Coalition partners. His sudden demise is an irreparable loss to the people of the state," his condolence message stated.
"I on behalf of the Naga Peoples Front, Manipur State Unit extend condolence and share the grief and sorrow of the family members of the departed leaders. I pray that Almighty God will give strength to all the family members to be able to stand strong in time of unbearable grief and sorrow. He shall be always remembered as a good leader. May his soul rest in peace," it added.
First Published:
May 15, 2021, 1:48 a.m.