Despite Covid curbs, Imphal's North AOC remains a haven for drug users
Oblivious to the Covid pandemic scare and undeterred by the government restrictions, all types of drug-related activities continue unabated in broad daylight at North AOC, Imphal.
---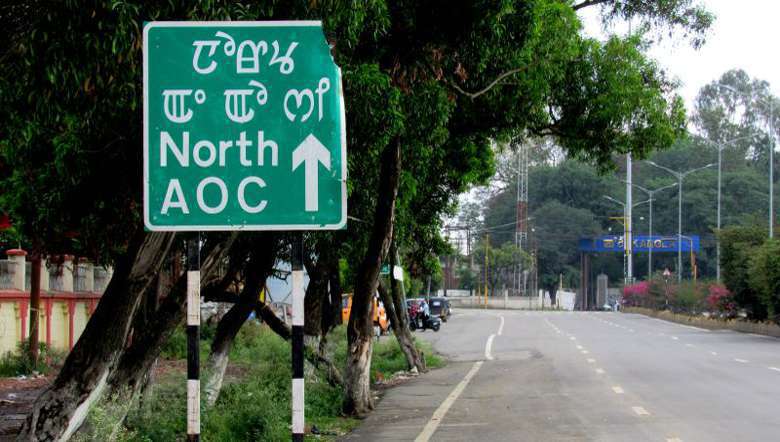 (PHOTO: IFP)
---
"Waiting at the roadside of North AOC in Imphal for drug peddlers and fixing the daily dose at least thrice a day in this place has become a routine activity of my life," one of the street-based injecting drug users, Tomba (name changed), said when this Imphal Free Press approached him as he eagerly waited for a drug peddler to bring him his usual daily dose.

North AOC, bustling with all kinds of commercial activities, is located in the heart of Imphal city, the capital of Manipur, along the National Highway 39. Formerly called Awang BOC, it lies adjacent to Kangla, one of the historical places of Manipur. It also shares close proximity with many government offices such as the Manipur Public Service Commission, RK Sanatombi Devi College of Education and Hotel Imphal, which makes it a popular place. The place is also a haven for drug users, commercial sex workers and drug traffickers. Such activities have been continuing for the past many years. However, the place has been witnessing a change in how this group of people has been accessing their favourite haven.

In the past, drug-related activities were carried out in interior areas in dark and dingy places to make sure nobody sees them or disturb them. But today, drug users can be seen consuming all forms of narcotic substances in the open. While passing through the place, one can witness drug users fixing their daily dose, peddlers selling drugs and some drug addicts getting overdosed by the roadside in North AOC even during broad daylight.

That doesn't mean the concerned authority has not taken up any step to prevent such wayward activities in and around the place or in other parts of the city. The secuirty forces even busted areas where many of them usually gathered around some years ago. Many were caught indulging in such activities. Currently too, the security forces continue to conduct patrolling and checking in and around the place. But the police crackdown on alcohol and drug menace in the state, North AOC is increasingly becoming a centre of drug users and all sorts of drug-related activities.

Even during the COVID-19 pandemic when the government had imposed curfew and containment measures, one could witness several drug abusers or peddlers loitering around the place though the number might be lesser than on normal days.

While North AOC continues to attract all types of substance abusers and all forms of illegal activities, it may be pointed out that close proximity to the Golden Triangle of drug trafficking, poverty, unemployment and violence are some of the major causes of drug issues in the state which resulted in the state being included in the list of states highly affected by drugs.

The present government has taken up various measures to combat drug problems such as the "War on Drug" mission and the "Nisha Thadoklasi" campaign launched in 2018. However, the menace remains uncontrolled.

Tomba, father of three children, said that he has become a "street-based drug user" since the past five years. Distrust by his family members drove him to become a street-based injecting drug user, he told the Imphal Free Press.

"I cannot do anything for my family. I am becoming a burden to them. Driven by the urge to grab my daily doses, I finally became a street based drug user as when I stay here I can anyhow manage to get my daily doses," said Tomba, who is in his 40s from Imphal East. He said his family is being looked after by his wife by running a hotel and all his three kids are pursuing formal education.

"Being a victim of drug issues, I cannot be closely connected with my family. However, whenever I miss them, I go to meet them. Sometimes I wanted to quit from drug addiction but coming from this phase is a big challenge. It is tough," he stated.

Another drug abuser, Naocha (name changed) who was once a government employee, said that he had become a drug user through peer pressure. He said that police personnel usually visit the site to keep vigil against the presence of drug users. But somehow he manages to fix the drug doses despite the fear of the police catching him or the Coronavirus attacking him, he said.

"As a drug user, I would like to appeal to the state government that simply beating us or harassing us cannot end the drug problem," Naocha pointed out, saying that the abusers themselves want to get rid of the addiction.

"I tried so many times to quit but due to various factors I couldn't accomplish my wish," he said.

Naocha expressed the need for government policies specific to the state to curb the drug menace.

"We long to recover from the addiction. Like the government has taken up preventive measures by seizing drugs, we also want specific policies that will help us to recover completely from drug addiction," he added.

Can the government provide a solution to the problem of North AOC being a haven of substance abusers and drug traffickers?

Speaking exclusively to this Imphal Free Press reporter, Ngangom Uttam Singh, director, state Social Welfare department, said, "What is happening in and around North AOC in connection with drug-related activities is very complex and hard to deal with. It is the most destined place for both drug peddling and fixing".

He said, "The government has been making efforts to control and monitor the place whereby police are frisking and checking the place regularly. But it is not the ultimate means to address the issue".

Maximum number of drug addicted people wandering around North AOC are reportedly disowned by their family members or are homeless.
Where can they go? Where can they find safe shelter?

Can North AOC be wiped clean of drug menace? The government's failure to keep the place drug free is evident from what the social welfare director said.

"Whenever police forces catch those indulging in drugs red handed while fixing their dose or intoxicated with drugs, there would be no place to accommodate them or to provide them a safe place to stay. Owing to this reason, the government is unable to keep the place free from any drug-related activities, drug peddlers and drug users," the director said.
The social welfare department will be taking up some steps which will help to provide them a safe place to stay and bring them into the mainstream, the director said, adding that they are making constant efforts to tackle the situation.

Highlighting the government's initiative to tackle drug addiction problem in the state, the director said that providing free drug treatment is one such important measure to curb drug menace in the state. Although there are 22 drug addiction centres in the state that run under the Ministry of Social Justice and Empowerment called Integrated Rehabilitation Centre for Addicts. But these numbers are insufficient to tackle the menace as there is a high number of substance abusers in the state.
There is also the problem of inadequate beds at de-addiction centres which the government has failed to look into so far.
The director, however, said that the state government, in an effort to reduce the problem of insufficiency of beds in de-addiction centres, planned to set up one 50 bedded de-addiction centre at Sunu Siphai. The centre will begin functioning within three to four months and it will give more preference to homeless and disowned drug abusers in the state.

Given the high number of drug addicts in the state, perhaps, the government may have to increase the number of beds in de-addiction and rehabilitation centres to accommodate the thousands of homeless addicts across the state.

Stressing the importance of private de-addiction centres in the state to help deal with the situation, Uttam Singh said drug menace in the state has become a social issue that needs collective effort from every walk of life to address it. The responsibility of people who set up private de-addiction centres is also immense as they are being set up to bring change among the drug abusers. In view of it, the Manipur State Policy on Psychoactive Substance, 2019 had mentioned that all private de-addiction centres should earmark at least 10 per cent of their total seat capacity for clients belonging to economically weaker sections of the society for a period of one month minimum.

The social department has already been notified to regulate all private de-addiction centres under the guidelines of the Ministry of Social Justice and Empowerment. Once this rule is being implemented effectively, the problem of ever-increasing roadside drug users will be reduced to some extent as the norm of 10 per cent reservation for EWS drug abusers in private de-addiction centres can be executed properly, the director added.

"Even among street users, many of them desire to recover from addiction by getting proper treatment. But due to lack of support from family or being disowned by family, they find it difficult to quit taking drugs. I think support from society as well as the government is needed to bring them back to the mainstream. Hence, we had mentioned about providing 10 per cent of the treatment for them in private de-addiction centres," he said.

The director further said, "We are also planning to create awareness about IRCA centres in nearby places of North AOC so that we can enrol whoever wants to join easily".

Another issue is of registered de-addiction centres in the state. While the number of centres are many, only a few are registered ones.

When asked, Uttam said the department is going to issue notification for the second time to all private de-addiction centres to get registered. First notification was out last year but a maximum of them are yet to register.

"Out of 59 de-addiction centres that took the form for registration, only three centres had submitted so far. The department will take up strict action whosoever fails to get registered this time," he added.

Community participation to deal with the menace

Appealing to the people of the state to extend support to the government in combating the drug menace, Uttam said that with the ever-increasing drug menace, the role of community participation has become "mandatory" now.

"There is a need to strengthen local clubs of every locality which existed at one time so as to enable them to defeat drug problems from society. Without sincere and honest support and cooperation from society, the department alone cannot fight drug issues successfully," he stressed.

Professor MC Arun Kumar, department of Anthropology, Manipur University, who is also a member of core committee of Manipur State Policy on Psychoactive Substance 2019, told the Imphal Free Press that dealing with drug issues needs a multi-prong approach and strong political will.

"The issue cannot be addressed only by seizing drugs and narcotic substances," he said.

Arun said that the problem of drug menace in the state is not recent. It has been surfacing for more than three decades and the situation is worsening each day. Despite the problem, the state has no specific data on injecting drug users or substance abuse. But it is estimated that more than four per cent of the youth of the state is consuming at least one type of narcotic or intoxicants today.

With the COVID-19 pandemic here to stay for long, this percentage may even rise. With the government restrictions imposed in view of the pandemic and following the closure of schools, colleges and universities, many youth have started turning to drugs or intoxicant items to pass the time, he added.

Arun said that for the state of Manipur, the issue of drug abuse has become a social issue not an individual problem. As such, criminalising or harassing or punishing drug abusers would not help in uprooting the drug problem from society, he added.

When asked about the ever-increasing cases of fixing drugs and drug trafficking in the open in North AOC during broad daylight despite the police conducting frequent checking, he said that it is one such example that drug problems cannot be solved by punishing or beating the abusers.

The worsening condition of the North AOC area and other places in the state frequented by those indulging in drug-related activities points to the fact that drug issues cannot be dealt with only by destruction of poppy cultivation, seizing of drugs and burning them. Tackling drug menace also requires a prompt and holistic approach that include prevention, treatment and recovery of drug abusers if the state government is truly committed enough to winning the war on drugs and in making Manipur a drug free state.

ALSO READ:
First Published:
May 11, 2021, 9:21 p.m.