UG cadre involved in 2017 ambush case arrested
The arrested person was reportedly involved in the 2017 ambush case on Assam Rifles at Chamol, Sajik Tampak, Chandel district.
---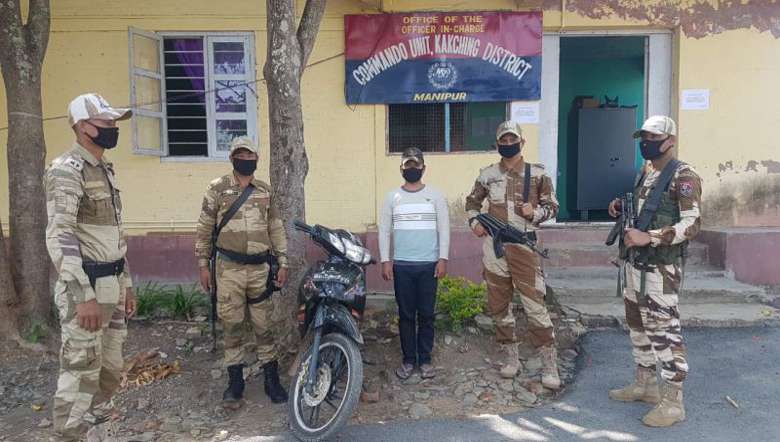 A team of district commando, Kakching arrested one cadre of proscribed UG outfit RPF/PLA at Kakching Khunou College gate on Friday at about 7:30 am.
The arrested person was reportedly involved in the 2017 ambush case on Assam Rifles at Chamol, Sajik Tampak, Chandel district. He has been identified as one Mayanglambam Siromani Singh, 32, alias Casper alias Kesper, son of M Romesh Singh of Kakching Khunou Angom Leikai.
According to SP of Kakching, after receiving of information that some valley based UG cadres are loitering in and around Kakching Khunou area for committing prejudicial activities, a unit of district commando led by its OC, Md Abash Khan was instructed for immediate operation in the area. During the operation one person in a suspicious manner was seen coming from Sugnu towards Kakching Khunou Lamkhai in a foreign made bike (Kenbo) without registration number. He was detained in front of Kakching Khunoou college gate and during examination he disclosed that he is an active cadre of RPF/PLA. He was arrested on the spot and the bike was seized.
On further verification, he disclosed that he joined the outfit organisation in 2005 through one corporal of the said proscribed outfit, Chaothoi of Chairel village. He got basic military training for 45 days in 2006 at Tayang, Myanmar under army number 2762. He further told during the verification that he worked under the command of one Romesh and he was involved in extortion of money for the party fund from the general public, businessmen, government departments and shopkeepers of Thoubal and Kakching districts.
On preliminary interrogation, it was learnt that Casper is an absconder and a wanted person in connection with the NIA case number RC-01/2018/NIA-GUW u/s 121/121-A/302/307/326/400 IPC,25(1-C) and 27 Arms Act,04 Expl. Subs. Act and 16/18/20/38 UA (P) Act.
The arrested person along with the seized item has been handed over to Waikhong Police Station and a regular case has been registered for further investigation.
It may be mentioned that cadres of PLA and Manipur Naga People's Front (MNPF) carried out the ambush on a Road Opening Party (ROP) of 4th Assam Rifles at Chamol, Sajik Tampak road on November 15, 2017. During the incident one Assam Rifles personnel was killed and another was injured. Besides, two cadres of the outfits were also killed during the ambush.
First Published:
May 7, 2021, 11:22 p.m.